Cómo se ha comportado este fondo
31/12/2018
Crecimiento de 1.000 (EUR)
Gráfico Avanzado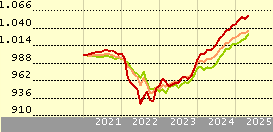 Fondo
1,7
1,1
2,1
0,0
-3,0
+/-Cat
-0,1
1,0
1,3
-0,2
-1,4
+/-Ind
-0,1
0,5
1,5
0,2
-2,9
 
Benchmark de la Categoría: BBgBarc Euro Agg 1-3 Yr TR EUR
Estadística Rápida
VL
17/01/2019
 
EUR 1697,94
Cambio del día
 
0,02%
Categoría Morningstar™
 
RF Diversificada Corto Plazo EUR
ISIN
 
FR0010149120
Patrimonio (Mil)
16/01/2019
 
EUR 10677,71
Patrimonio Clase (Mil)
16/01/2019
 
EUR 10224,65
Comisión Máx. Suscripción
 
1,00%
Gastos Corrientes
12/03/2018
 
0,80%
Analyst Report
Carmignac Sécurité boasts a competent team. Keith Ney was appointed lead manager in April 2014, but he was previously involved in the fund through his role as credit analyst and head of the credit research team. He also has the benefit of...
Haga clic aquí para leer el análisis
Pilares Morningstar
Personal
Positive
Firma Gestora
Neutral
Proceso
Positive
Performance
Positive
Precio
Negative
Objetivo de inversión: Carmignac Sécurité A EUR Acc
Es un Fondo de renta fija que invierte principalmente en obligaciones o valores asimilados, así como en otros títulos de deuda denominados en euros. El objetivo del fondo es la búsqueda de una rentabilidad regular preservando el capital invertido.
Returns
| | |
| --- | --- |
| Rentabilidades acumul. % | 17/01/2019 |
| Año | -0,04 |
| 3 años anualiz. | -0,29 |
| 5 años anualiz. | 0,29 |
| 10 años anualiz. | 2,07 |
| | | |
| --- | --- | --- |
| Rendimento a 12 meses |   | 0,00 |
Gestión
Nombre del gestor
Fecha Inicio
Keith Ney
22/01/2013
Creación del fondo
26/01/1989
Benchmark de la Categoría
Benchmark de fondos
Benchmark Morningstar
FTSE MTS Ex-CNO Etrix 1-3Y TR EUR
BBgBarc Euro Agg 1-3 Yr TR EUR
Target Market
Role In Portfolio
Standalone / Core
No específico
Component
No específico
Otro
No específico
Primary Objective
Preservación
No específico
Crecim
Sí
Ingresos
No específico
Cobertura (hedging)
No específico
Otro
No específico
Qué posee el fondo  Carmignac Sécurité A EUR Acc
30/06/2018
Renta Fija
Vencimiento efectivo
3,05
Duración efectiva
2,18
Style Box® de Morningstar
Estilo de renta fija
Colocación de activos
 
% largo
% corto
% patrimonio
Acciones
0,00
0,00
0,00
Obligaciones
90,86
0,32
90,54
Efectivo
19,12
11,20
7,93
Otro
1,54
0,00
1,54