Cómo se ha comportado este fondo
31/12/2018
Crecimiento de 1.000 (EUR)
Gráfico Avanzado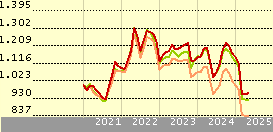 Fondo
41,6
-11,8
17,9
4,2
-4,7
+/-Cat
1,0
2,0
2,6
5,3
0,6
+/-Ind
-2,5
-1,5
-2,6
-4,9
0,0
 
Benchmark de la Categoría: MSCI Indonesia NR IDR
Estadística Rápida
VL
18/01/2019
 
USD 29,18
Cambio del día
 
0,49%
Categoría Morningstar™
 
RV Indonesia
ISIN
 
LU0055114457
Patrimonio (Mil)
31/12/2018
 
USD 361,88
Patrimonio Clase (Mil)
18/01/2019
 
USD 348,51
Comisión Máx. Suscripción
 
5,25%
Gastos Corrientes
13/11/2018
 
1,95%
Analyst Report
Fidelity Indonesia has merits, but it can benefit from adopting a more active approach, along with a lower fee level. We believe the presence of Gillian Kwek represents a key highlight of the strategy. Although she took over the portfolio at the...
Haga clic aquí para leer el análisis
Pilares Morningstar
Personal
Positive
Firma Gestora
Positive
Proceso
Neutral
Performance
Neutral
Precio
Negative
Objetivo de inversión: Fidelity Funds - Indonesia Fund A-DIST-USD
El Fondo pretende lograr un crecimiento del capital a largo plazo invirtiendo en una cartera de valores, integrada por renta variable que cotiza en la Bolsa de Indonesia. El fondo también puede invertir en empresas indonesias que no coticen en Bolsa, y en sociedades no indonesias, con importantes operaciones en este pais, que coticen en Bolsa.
Returns
| | |
| --- | --- |
| Rentabilidades acumul. % | 18/01/2019 |
| Año | 7,73 |
| 3 años anualiz. | 8,86 |
| 5 años anualiz. | 7,95 |
| 10 años anualiz. | 15,95 |
| | | |
| --- | --- | --- |
| Rendimento a 12 meses |   | 0,00 |
| Frecuencia de pago de dividendos |   | Annually |
Gestión
Nombre del gestor
Fecha Inicio
Madeleine Kuang
01/06/2018
Creación del fondo
05/12/1994
Benchmark de la Categoría
Benchmark de fondos
Benchmark Morningstar
MSCI Indonesia IMI Capped at 8%
MSCI Indonesia NR IDR
Target Market
Role In Portfolio
Standalone / Core
No específico
Component
No específico
Otro
No específico
Primary Objective
Preservación
No específico
Crecim
Sí
Ingresos
No específico
Cobertura (hedging)
No específico
Otro
No específico
Qué posee el fondo  Fidelity Funds - Indonesia Fund A-DIST-USD
30/11/2018
Style Box® de Morningstar
Estilo de acciones
Colocación de activos
 
% largo
% corto
% patrimonio
Acciones
93,68
0,00
93,68
Obligaciones
0,17
0,00
0,17
Efectivo
6,25
0,11
6,15
Otro
0,00
0,00
0,00
| | |
| --- | --- |
| 5 regiones principales | % |
| Asia - Emergente | 97,10 |
| Asia - Desarrollada | 2,90 |
| Estados Unidos | 0,00 |
| Canadá | 0,00 |
| Iberoamérica | 0,00 |
5 mayores sectores
%
Servicios Financieros
37,16
Consumo Cíclico
17,60
Consumo Defensivo
15,30
Industria
8,50
Servicios de Comunicación
5,45