Cómo se ha comportado este fondo
31/12/2018
Crecimiento de 1.000 (EUR)
Gráfico Avanzado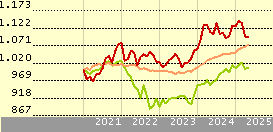 Fondo
0,2
7,3
-8,2
2,4
3,2
+/-Cat
-
-
-
-
-
+/-Ind
-
-
-
-
-
 
Benchmark de la Categoría: -
Estadística Rápida
VL
21/01/2019
 
EUR 127,06
Cambio del día
 
0,29%
Categoría Morningstar™
 
Alt - Market Neutral - RV
ISIN
 
LU0414665884
Patrimonio (Mil)
21/01/2019
 
EUR 1881,89
Patrimonio Clase (Mil)
21/01/2019
 
EUR 38,05
Comisión Máx. Suscripción
 
3,00%
Gastos Corrientes
11/05/2018
 
2,42%

*  Este informe y rating fueron emitidos para una clase diferente de este mismo fondo. La rentabilidad y la estructura de comisiones de este fondo puede variar de lo mencionado aquí.
Analyst Report
The fund's relatively new management duo and adjustments to its investment approach sees us maintain its Morningstar Analyst Rating of Neutral. David Tovey, a BlackRock employee since 1998, replaced Vincent Devlin, who had managed this strategy...
Haga clic aquí para leer el análisis
Pilares Morningstar
Personal
Neutral
Firma Gestora
Positive
Proceso
Neutral
Performance
Neutral
Precio
Negative
Objetivo de inversión: BlackRock Strategic Funds - European Absolute Return Fund E2 EUR
El BlackRock European Absolute Return Strategies Fund busca estrategias para lograr una rentabilidad absoluta positiva para los inversores, independientemente de los movimientos del mercado. El Fondo tratará de alcanzar este objetivo de inversión a través de una inversión de al menos el 70% del total de sus activos en acciones y los valores relacionados con la renta variable (incluidos los derivados) de las empresas domiciliadas o el ejercicio de la parte predominante de su actividad económica en Europa.
Returns
| | |
| --- | --- |
| Rentabilidades acumul. % | 21/01/2019 |
| Año | -0,24 |
| 3 años anualiz. | -1,09 |
| 5 años anualiz. | 0,62 |
| 10 años anualiz. | - |
| | | |
| --- | --- | --- |
| Rendimento a 12 meses |   | 0,00 |
Gestión
Nombre del gestor
Fecha Inicio
David Tovey
20/06/2017
Stefan Gries
01/07/2013
Creación del fondo
27/02/2009
Benchmark de la Categoría
Benchmark de fondos
Benchmark Morningstar
ICE LIBOR 3 Month EUR
-
Target Market
Role In Portfolio
Standalone / Core
No específico
Component
No específico
Otro
No específico
Primary Objective
Preservación
No específico
Crecim
Sí
Ingresos
Sí
Cobertura (hedging)
No específico
Otro
No específico
Qué posee el fondo  BlackRock Strategic Funds - European Absolute Return Fund E2 EUR
30/09/2018
Style Box® de Morningstar
Estilo de acciones
Style Box® de Morningstar
Estilo de renta fija

Colocación de activos
 
% largo
% corto
% patrimonio
Acciones
49,89
60,59
-10,71
Obligaciones
17,67
0,00
17,67
Efectivo
100,38
7,84
92,54
Otro
0,50
0,00
0,50
Renta Fija
Vencimiento efectivo
-
Duración efectiva
-

| | |
| --- | --- |
| 5 regiones principales | % |
| Europe - ex Euro | 47,62 |
| Zona Euro | 32,23 |
| Reino Unido | 16,51 |
| Estados Unidos | 3,63 |
| Canadá | 0,00 |
5 mayores sectores
%
Industria
31,06
Salud
29,55
Consumo Cíclico
18,09
Consumo Defensivo
8,16
Tecnología
5,34