Cómo se ha comportado este fondo
31/01/2020
Crecimiento de 1.000 (EUR)
Gráfico Avanzado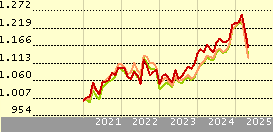 Fondo
11,2
-6,5
3,7
11,9
1,1
+/-Cat
5,0
-0,6
2,7
-0,4
-0,7
+/-Ind
3,8
-1,7
0,9
-3,5
-1,5
 
Benchmark de la Categoría: Cat 75%Barclays US Agg TR&2...
Estadística Rápida
VL
14/02/2020
 
USD 10,93
Cambio del día
 
0,12%
Categoría Morningstar™
 
Mixtos Defensivos USD
ISIN
 
LU1670725347
Patrimonio (Mil)
14/02/2020
 
EUR 20259,17
Patrimonio Clase (Mil)
14/02/2020
 
USD 2250,60
Comisión Máx. Suscripción
 
4,00%
Gastos Corrientes
11/02/2020
 
1,47%

*  Este informe y rating fueron emitidos para una clase diferente de este mismo fondo. La rentabilidad y la estructura de comisiones de este fondo puede variar de lo mencionado aquí.
Analyst Report
M&G (Lux) Optimal Income, a Luxembourg-authorised SICAV, receives a Morningstar Analyst Rating of Silver for its established and time-tested process, the team's experience in managing money across different stages of the credit cycle, and the...
Haga clic aquí para leer el análisis
Pilares Morningstar
Personal
Positive
Firma Gestora
Neutral
Proceso
Positive
Performance
Positive
Precio
Neutral
Objetivo de inversión: M&G (Lux) Investment Funds 1 - M&G (Lux) Optimal Income Fund A H USD Acc
The Fund aims to provide a total return (the combination of capital growth and income) to investors based on exposure to optimal income streams in investment markets.
Returns
| | |
| --- | --- |
| Rentabilidades acumul. % | 14/02/2020 |
| Año | 3,82 |
| 3 años anualiz.* | 3,90 |
| 5 años anualiz.* | 5,19 |
| 10 años anualiz.* | - |
| | | |
| --- | --- | --- |
| Rendimento a 12 meses |   | 0,00 |
Gestión
Nombre del gestor
Fecha Inicio
Richard Woolnough
05/09/2018
Creación del fondo
07/09/2018
Benchmark de la Categoría
Benchmark de fondos
Benchmark Morningstar
Sin benchmark
Cat 75%Barclays US Agg TR&25%FTSE Wld TR
Target Market
Role In Portfolio
Standalone / Core
No específico
Component
No específico
Otro
No específico
Primary Objective
Preservación
No específico
Crecim
Sí
Ingresos
No específico
Cobertura (hedging)
No específico
Otro
No específico
Qué posee el fondo  M&G (Lux) Investment Funds 1 - M&G (Lux) Optimal Income Fund A H USD Acc
31/12/2019
Style Box® de Morningstar
Estilo de acciones
Style Box® de Morningstar
Estilo de renta fija

Colocación de activos
 
% largo
% corto
% patrimonio
Acciones
5,40
0,00
5,40
Obligaciones
89,86
0,31
89,55
Efectivo
59,76
56,20
3,56
Otro
1,49
0,00
1,49
Renta Fija
Vencimiento efectivo
-
Duración efectiva
-

| | |
| --- | --- |
| 5 regiones principales | % |
| Zona Euro | 46,93 |
| Reino Unido | 41,07 |
| Estados Unidos | 7,85 |
| Europe - ex Euro | 4,15 |
| Europe emergente | 0,00 |
5 mayores sectores
%
Servicios Financieros
34,94
Consumo Cíclico
15,24
Consumo Defensivo
12,08
Energía
10,93
Industria
9,06