Amundi Funds - Global Total Return Bond A EUR AD (D)
Cómo se ha comportado este fondo
30/09/2019
Crecimiento de 1.000 (EUR)
Gráfico Avanzado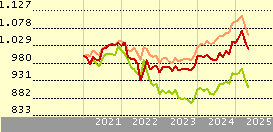 Fondo
5,4
7,1
-2,0
-2,3
14,0
+/-Cat
-1,0
-1,1
1,7
-1,3
4,4
+/-Ind
-2,5
1,9
3,7
-6,1
2,5
 
Benchmark de la Categoría: BBgBarc Global Aggregate TR...
Estadística Rápida
VL
21/10/2019
 
EUR 109,11
Cambio del día
 
-0,19%
Categoría Morningstar™
 
RF Flexible Global
ISIN
 
LU1253539677
Patrimonio (Mil)
21/10/2019
 
EUR 257,63
Patrimonio Clase (Mil)
21/10/2019
 
EUR 1,79
Comisión Máx. Suscripción
 
4,50%
Gastos Corrientes
09/07/2019
 
1,33%
Objetivo de inversión: Amundi Funds - Global Total Return Bond A EUR AD (D)
The Sub-Fund (the "Feeder Fund") will invest at least 85% of its net assets in units of Amundi Oblig Internationales (OR-D class) (the "Master Fund"), a Société d'Investissement à Capital Variable constituted under French laws and qualifying as a master UCITS under Directive 2009/65/EC. Therefore the investment policy of the Sub-Fund shall be read in conjunction with the prospectus of the Master Fund, the objectives and investment policy being the following: The objective of the Master Fund is to outperform the JP Morgan Global Government Bond Index Broad index, which is representative of the international bond market over an investment period of three years, after taking into account charges. The residual 15% of the net assets of the Feeder Sub-Fund will be invested in liquid assets and financial derivative instruments for hedging purposes only.
Returns
| | |
| --- | --- |
| Rentabilidades acumul. % | 21/10/2019 |
| Año | 12,52 |
| 3 años anualiz. | 1,56 |
| 5 años anualiz.* | 4,80 |
| 10 años anualiz.* | 6,52 |
| | | |
| --- | --- | --- |
| Rendimento a 12 meses |   | 2,13 |
| Frecuencia de pago de dividendos |   | Annually |
Gestión
Nombre del gestor
Fecha Inicio
Cédric Morisseau
24/07/2015
Anne Beaudu
24/07/2015
Creación del fondo
24/07/2015
Benchmark de la Categoría
Benchmark de fondos
Benchmark Morningstar
JPM GBI Broad TR EUR
BBgBarc Global Aggregate TR USD
Target Market
Role In Portfolio
Standalone / Core
No específico
Component
No específico
Otro
No específico
Primary Objective
Preservación
No específico
Crecim
Sí
Ingresos
Sí
Cobertura (hedging)
No específico
Otro
No específico
Qué posee el fondo  Amundi Funds - Global Total Return Bond A EUR AD (D)
31/08/2019
Renta Fija
Vencimiento efectivo
-
Duración efectiva
-
Style Box® de Morningstar
Estilo de renta fija
Colocación de activos
 
% largo
% corto
% patrimonio
Acciones
0,02
0,06
-0,04
Obligaciones
127,82
3,01
124,81
Efectivo
199,91
229,05
-29,14
Otro
4,76
0,40
4,37