Cómo se ha comportado este fondo
31/10/2019
Crecimiento de 1.000 (EUR)
Gráfico Avanzado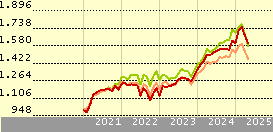 Fondo
7,3
12,1
5,8
-9,3
19,9
+/-Cat
0,5
1,7
-0,8
0,0
3,7
+/-Ind
2,9
-3,8
2,0
-3,1
2,5
 
Benchmark de la Categoría: MSCI ACWI Value NR USD
Estadística Rápida
VL
15/11/2019
 
USD 20,71
Cambio del día
 
0,42%
Categoría Morningstar™
 
RV Global Cap. Grande Value
ISIN
 
IE00B8Q6N977
Patrimonio (Mil)
31/05/2019
 
USD 2088,57
Patrimonio Clase (Mil)
31/10/2019
 
USD 37,81
Comisión Máx. Suscripción
 
-
Gastos Corrientes
19/02/2019
 
1,84%
Analyst Report
Artisan Global Value still has a talented team, but a management split introduces uncertainty. This Ireland-domiciled fund is managed as a near-identical clone of the US mutual fund Artisan Global Value, the Morningstar Analyst Rating of which...
Haga clic aquí para leer el análisis
Pilares Morningstar
Personal
Positive
Firma Gestora
Positive
Proceso
Positive
Performance
Positive
Precio
Negative
Objetivo de inversión: Artisan Global Value Fund Class A US Dollar Accumulating Shares
The investment objective of the Fund is to achieve maximum long-term capital growth. The Fund will seek to achieve its objective by investing primarily in a diversified portfolio of equity and equity-linked securities quoted or traded on a Regulated Market and issued by companies worldwide. Equity and equity-linked securities in which the Fund may invest include common stock, preferred stock, convertible securities (Which may include preferred stock that can be converted into shares of the issuing company), Participation Certification and Depository Receipts. The Fund may also invest in emerging and less developed market such as Brazil, CHina and Russia. The extent of the Fund's investment in Russia is not expected to exceed 10% of its Net Asset Value.
Returns
| | |
| --- | --- |
| Rentabilidades acumul. % | 15/11/2019 |
| Año | 22,76 |
| 3 años anualiz. | 6,72 |
| 5 años anualiz. | 8,02 |
| 10 años anualiz. | - |
| | | |
| --- | --- | --- |
| Rendimento a 12 meses |   | 0,00 |
Gestión
Nombre del gestor
Fecha Inicio
Daniel O'Keefe
01/03/2011
Justin Bandy
01/10/2018
Click here to see others
Creación del fondo
06/08/2013
Benchmark de la Categoría
Benchmark de fondos
Benchmark Morningstar
MSCI ACWI NR USD
MSCI ACWI Value NR USD
Target Market
Role In Portfolio
Standalone / Core
No específico
Component
No específico
Otro
No específico
Primary Objective
Preservación
No
Crecim
Sí
Ingresos
No
Cobertura (hedging)
No
Otro
No específico
Qué posee el fondo  Artisan Global Value Fund Class A US Dollar Accumulating Shares
30/09/2019
Style Box® de Morningstar
Estilo de acciones
Colocación de activos
 
% largo
% corto
% patrimonio
Acciones
93,48
0,00
93,48
Obligaciones
0,00
0,00
0,00
Efectivo
10,61
4,09
6,52
Otro
0,00
0,00
0,00
| | |
| --- | --- |
| 5 regiones principales | % |
| Estados Unidos | 55,55 |
| Europe - ex Euro | 11,57 |
| Reino Unido | 10,15 |
| Asia - Emergente | 6,49 |
| Asia - Desarrollada | 6,03 |
5 mayores sectores
%
Servicios Financieros
33,67
Tecnología
23,45
Industria
12,91
Consumo Cíclico
11,50
Salud
8,32