Cómo se ha comportado este fondo
31/03/2015
Crecimiento de 1.000 (EUR)
Gráfico Avanzado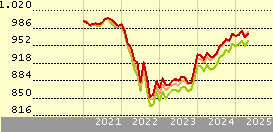 Fondo
-1,4
20,3
3,2
8,0
2,4
+/-Cat
-1,8
7,1
0,5
1,1
0,5
+/-Ind
-2,9
6,7
0,8
-0,4
1,1
 
Benchmark: Barclays Euro Agg Corps TR EUR
Estadística Rápida
VL
24/04/2015
 
EUR 17,72
Cambio del día
 
-0,04%
Categoría Morningstar™
 
RF Deuda Corporativa EUR
ISIN
 
LU0243957825
Patrimonio (Mil)
31/03/2015
 
USD 7828,32
Patrimonio Clase (Mil)
24/04/2015
 
EUR 1776,98
Comisión Máx. Suscripción
 
5,00%
Gastos Corrientes
19/02/2015
 
1,27%
Analyst Report
Invesco Euro Corporate Bond is a strong long-term choice for investors seeking a high-conviction corporate bond fund.

The fund has been run by Paul Read and Paul Causer, co-heads of the fixed-income team, since launch. We have a high regard for...
Haga clic aquí para leer el análisis
Pilares Morningstar
Personal
Positive
Firma Gestora
Positive
Proceso
Positive
Performance
Positive
Precio
Negative
Objetivo de inversión: Invesco Funds - Invesco Euro Corporate Bond Fund Class A Accumulation
El fondo invierte con el objetivo de alcanzar, a medio y largo plazo, una rentabilidad global competitiva en euros y brindar una seguridad del capital comparativamente mayor que la de la renta variable. El fondo invertirá al menos dos terceras partes de su patrimonio total (excluidas las inversiones accesorias en activos líquidos) en valores o instrumentos de deuda denominados en euros de emisores empresariales.
Returns
| | |
| --- | --- |
| Rentabilidades acumul. % | 24/04/2015 |
| Año | 2,50 |
| 3 años anualiz. | 8,65 |
| 5 años anualiz. | 6,48 |
| 10 años anualiz. | - |
| | | |
| --- | --- | --- |
| Rendimento a 12 meses |   | 0,00 |
Gestión
Nombre del gestor
Fecha Inicio
Paul Read
31/03/2006
Paul Causer
31/03/2006
Creación del fondo
31/03/2006
Benchmark
Benchmark de fondos
Benchmark Morningstar
Mstar GIF OS EUR Corporate
Barclays Euro Agg Corps TR EUR
Qué posee el fondo  Invesco Funds - Invesco Euro Corporate Bond Fund Class A Accumulation
31/03/2015
Renta Fija
Vencimiento efectivo
-
Duración efectiva
4,98
Style Box® de Morningstar
Estilo de renta fija
Colocación de activos
 
% largo
% corto
% patrimonio
Acciones
0,00
0,00
0,00
Obligaciones
89,43
22,93
66,50
Efectivo
43,16
12,07
31,09
Otro
4,37
1,96
2,41