Cómo se ha comportado este fondo
30/06/2014
Crecimiento de 1.000 (EUR)
Gráfico Avanzado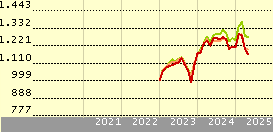 Fondo
19,3
-8,9
22,0
16,7
-1,6
+/-Cat
7,6
2,1
4,2
-3,0
-6,1
+/-Ind
8,2
-0,8
4,7
-3,2
-7,8
 
Benchmark: MSCI Europe NR USD
Estadística Rápida
VL
30/07/2014
 
EUR 130,29
Cambio del día
 
-0,21%
Categoría Morningstar™
 
RV Europa Cap. Grande Blend
ISIN
 
LU0246035637
Patrimonio (Mil)
30/06/2014
 
EUR 1243,03
Patrimonio Clase (Mil)
29/07/2014
 
EUR 471,64
Comisión Máx. Suscripción
 
5,00%
Ratio de costes netos
31/12/2013
 
1,94%
Schroder ISF European Special Situations remains a solid pan-European offering.



Our conviction here rests largely on the presence of manager Leon Howard-Spink, who joined Schroders from Jupiter in 2005. He came with a remarkable eight-year...
Haga clic aquí para leer el análisis
Objetivo de inversión: Schroder International Selection Fund European Special Situations A Acc
Proporcionar crecimiento de capital a través de la inversión en valores de renta variable de sociedades europeas. Con el fin de conseguir el objetivo del Fondo, la entidad gestora invertirá en una cartera seleccionada de valores en situaciones especiales, siendo una situación especial para la entidad gestora aquella en la que se encuentra una sociedad cuyas perspectivas futuras no se reflejen completamente en su valoración.
Returns
| | |
| --- | --- |
| Rentabilidades acumul. % | 30/07/2014 |
| Año | -2,18 |
| 3 años anualiz. | 8,81 |
| 5 años anualiz. | 11,41 |
| 10 años anualiz. | - |
| | | |
| --- | --- | --- |
| Rendimento a 12 meses |   | 0,00 |
Gestión
Nombre del gestor
Fecha Inicio
Leon Howard-Spink
31/03/2006
Creación del fondo
31/03/2006
Benchmark
Benchmark de fondos
Benchmark Morningstar
MSCI Europe NR EUR
MSCI Europe NR USD
Qué posee el fondo  Schroder International Selection Fund European Special Situations A Acc
30/04/2014
Style Box® de Morningstar
Estilo de acciones
Colocación de activos
 
% largo
% corto
% patrimonio
Acciones
93,67
0,00
93,67
Obligaciones
0,00
0,00
0,00
Efectivo
1,57
0,00
1,57
Otro
5,35
0,60
4,75
| | |
| --- | --- |
| 5 regiones principales | % |
| Zona Euro | 45,34 |
| Europe - ex Euro | 38,34 |
| Reino Unido | 16,32 |
| Estados Unidos | 0,00 |
| Japón | 0,00 |
5 mayores sectores
%
No hay datos disponibles