Cómo se ha comportado este fondo
31/07/2016
Crecimiento de 1.000 (EUR)
Gráfico Avanzado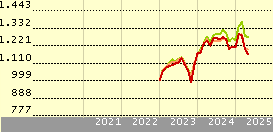 Fondo
22,0
16,7
3,8
17,4
0,2
+/-Cat
0,6
-1,0
-2,6
0,9
4,0
+/-Ind
4,1
-1,5
-4,2
1,5
2,6
 
Benchmark de la Categoría: MSCI Europe Growth NR EUR
Estadística Rápida
VL
26/08/2016
 
EUR 162,27
Cambio del día
 
0,06%
Categoría Morningstar™
 
RV Europa Cap. Grande Growth
ISIN
 
LU0246035637
Patrimonio (Mil)
31/07/2016
 
EUR 592,42
Patrimonio Clase (Mil)
26/08/2016
 
EUR 258,74
Comisión Máx. Suscripción
 
5,00%
Gastos Corrientes
19/02/2016
 
1,91%
Analyst Report
This fund's return to form continues.

The fund has been managed from launch in March 2006 by Leon Howard-Spink, who joined Schroders from Jupiter in 2005. He came with an impressive eight-year track record at Jupiter, where his mandates...
Haga clic aquí para leer el análisis
Pilares Morningstar
Personal
Positive
Firma Gestora
Positive
Proceso
Positive
Performance
Positive
Precio
Neutral
Objetivo de inversión: Schroder International Selection Fund European Special Situations A Acc
Proporcionar crecimiento de capital a través de la inversión en valores de renta variable de sociedades europeas. Con el fin de conseguir el objetivo del Fondo, la entidad gestora invertirá en una cartera seleccionada de valores en situaciones especiales, siendo una situación especial para la entidad gestora aquella en la que se encuentra una sociedad cuyas perspectivas futuras no se reflejen completamente en su valoración.
Returns
| | |
| --- | --- |
| Rentabilidades acumul. % | 26/08/2016 |
| Año | -0,06 |
| 3 años anualiz. | 8,45 |
| 5 años anualiz. | 13,25 |
| 10 años anualiz. | 4,94 |
| | | |
| --- | --- | --- |
| Rendimento a 12 meses |   | 0,00 |
Gestión
Nombre del gestor
Fecha Inicio
Paul Griffin
31/03/2006
Leon Howard-Spink
31/03/2006
Creación del fondo
31/03/2006
Benchmark de la Categoría
Benchmark de fondos
Benchmark Morningstar
MSCI Europe NR EUR
MSCI Europe Growth NR EUR
Qué posee el fondo  Schroder International Selection Fund European Special Situations A Acc
30/04/2016
Style Box® de Morningstar
Estilo de acciones
Colocación de activos
 
% largo
% corto
% patrimonio
Acciones
96,90
0,00
96,90
Obligaciones
0,00
0,00
0,00
Efectivo
2,36
0,31
2,04
Otro
1,06
0,01
1,06
| | |
| --- | --- |
| 5 regiones principales | % |
| Zona Euro | 41,98 |
| Europe - ex Euro | 40,07 |
| Reino Unido | 17,95 |
| Estados Unidos | 0,00 |
| Japón | 0,00 |
5 mayores sectores
%
Salud
19,35
Tecnología
19,26
Industria
12,52
Materiales Básicos
12,44
Consumo Defensivo
12,38