Cómo se ha comportado este fondo
30/11/2018
Crecimiento de 1.000 (EUR)
Gráfico Avanzado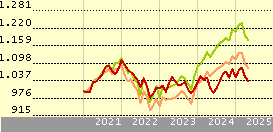 Fondo
10,5
2,6
3,0
2,6
-3,5
+/-Cat
3,7
0,1
-0,1
-1,8
0,2
+/-Ind
-4,7
-3,0
-4,7
-2,2
-5,6
 
Benchmark de la Categoría: Cat 50%Barclays EurAgg TR&5...
Estadística Rápida
VL
17/12/2018
 
EUR 15,92
Cambio del día
 
-0,69%
Categoría Morningstar™
 
Mixtos Moderados EUR - Global
ISIN
 
LU0227384020
Patrimonio (Mil)
12/12/2018
 
EUR 11198,03
Patrimonio Clase (Mil)
17/12/2018
 
EUR 4176,75
Comisión Máx. Suscripción
 
5,00%
Gastos Corrientes
19/11/2018
 
1,79%

*  Este informe y rating fueron emitidos para una clase diferente de este mismo fondo. La rentabilidad y la estructura de comisiones de este fondo puede variar de lo mencionado aquí.
Analyst Report
We continue to appreciate the disciplined approach to asset allocation and experienced and stable team at Nordea 1 - Stable Return.The fund has been managed since its launch in 2005 by the experienced trio Asbjørn Trolle Hansen, Claus Vorm, and...
Haga clic aquí para leer el análisis
Pilares Morningstar
Personal
Positive
Firma Gestora
Neutral
Proceso
Positive
Performance
Neutral
Precio
Negative
Objetivo de inversión: Nordea 1 - Stable Return Fund BP EUR
Este Subfondo pretende conservar el capital del inversor y proporcionar una rentabilidad absoluta positiva superior a la de los tipos de interés europeos a tres meses. Este Subfondo invierte en todos los tipos permisibles de clases de activos, como son valores de renta variable, bonos e Instrumentos del mercado monetario.
Returns
| | |
| --- | --- |
| Rentabilidades acumul. % | 17/12/2018 |
| Año | -5,13 |
| 3 años anualiz. | 0,19 |
| 5 años anualiz. | 2,85 |
| 10 años anualiz. | 4,97 |
| | | |
| --- | --- | --- |
| Rendimento a 12 meses |   | 0,00 |
Gestión
Nombre del gestor
Fecha Inicio
Claus Vorm
02/11/2005
Asbjørn Trolle Hansen
02/11/2005
Click here to see others
Creación del fondo
02/11/2005
Benchmark de la Categoría
Benchmark de fondos
Benchmark Morningstar
Not Benchmarked
Cat 50%Barclays EurAgg TR&50%FTSE Wld TR
Target Market
Role In Portfolio
Standalone / Core
No específico
Component
No específico
Otro
No específico
Primary Objective
Preservación
No específico
Crecim
Sí
Ingresos
No específico
Cobertura (hedging)
No
Otro
No específico
Qué posee el fondo  Nordea 1 - Stable Return Fund BP EUR
30/11/2018
Style Box® de Morningstar
Estilo de acciones
Style Box® de Morningstar
Estilo de renta fija

Colocación de activos
 
% largo
% corto
% patrimonio
Acciones
66,40
0,00
66,40
Obligaciones
31,93
0,00
31,93
Efectivo
1,66
0,00
1,66
Otro
0,00
0,00
0,00
Renta Fija
Vencimiento efectivo
2,51
Duración efectiva
2,24

| | |
| --- | --- |
| 5 regiones principales | % |
| Estados Unidos | 55,33 |
| Asia - Emergente | 9,49 |
| Zona Euro | 6,73 |
| Japón | 6,14 |
| Asia - Desarrollada | 5,49 |
5 mayores sectores
%
Salud
18,94
Tecnología
18,70
Consumo Defensivo
12,39
Consumo Cíclico
11,44
Servicios Financieros
11,21