Cómo se ha comportado este fondo
31/12/2018
Crecimiento de 1.000 (EUR)
Gráfico Avanzado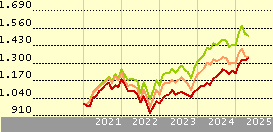 Fondo
9,4
13,8
-0,1
10,5
-7,7
+/-Cat
4,1
3,0
0,3
0,3
5,1
+/-Ind
2,5
5,6
-2,7
0,2
2,8
 
Benchmark de la Categoría: MSCI Europe NR EUR
Estadística Rápida
VL
21/01/2019
 
EUR 3079,05
Cambio del día
 
-0,12%
Categoría Morningstar™
 
RV Europa Cap. Grande Blend
ISIN
 
LU0191819951
Patrimonio (Mil)
18/01/2019
 
EUR 1746,56
Patrimonio Clase (Mil)
18/01/2019
 
EUR 1262,75
Comisión Máx. Suscripción
 
4,00%
Gastos Corrientes
13/02/2018
 
1,50%

*  Este informe y rating fueron emitidos para una clase diferente de este mismo fondo. La rentabilidad y la estructura de comisiones de este fondo puede variar de lo mencionado aquí.
Analyst Report
The fund goes well beyond pure, minimum variance investing and has done so successfully for more than a decade. One of its key strengths is its rigorous and replicable approach. The investment process blends strong quantitative optimisation...
Haga clic aquí para leer el análisis
Pilares Morningstar
Personal
Positive
Firma Gestora
Positive
Proceso
Positive
Performance
Positive
Precio
Neutral
Objetivo de inversión: Uni-Global - Equities Europe SA-EUR
El principal objetivo del fondo es lograr un rendimiento igual o mayor que, el DJ Europe Stoxx index, con una menor volatilidad. Esto se logra mediante el uso de un método cuantitativo basado en la construcción de una "mínima varianza" de cartera, es decir, la cartera óptima con el menor riesgo o la volatilidad esperada. El 100% del fondo consiste en una cesta de acciones seleccionadas por el gestor del universo de acciones del DJ Europe Stoxx index.
Returns
| | |
| --- | --- |
| Rentabilidades acumul. % | 21/01/2019 |
| Año | 5,22 |
| 3 años anualiz. | 5,34 |
| 5 años anualiz. | 5,72 |
| 10 años anualiz. | 9,25 |
| | | |
| --- | --- | --- |
| Rendimento a 12 meses |   | 0,00 |
Gestión
Nombre del gestor
Fecha Inicio
Alexei Jourovski
28/02/2012
Creación del fondo
04/05/2004
Benchmark de la Categoría
Benchmark de fondos
Benchmark Morningstar
STOXX Europe 600 NR EUR
MSCI Europe NR EUR
Target Market
Role In Portfolio
Standalone / Core
No específico
Component
No específico
Otro
No específico
Primary Objective
Preservación
No específico
Crecim
Sí
Ingresos
No específico
Cobertura (hedging)
No específico
Otro
No específico
Qué posee el fondo  Uni-Global - Equities Europe SA-EUR
30/11/2018
Style Box® de Morningstar
Estilo de acciones
Colocación de activos
 
% largo
% corto
% patrimonio
Acciones
99,69
0,00
99,69
Obligaciones
0,00
0,00
0,00
Efectivo
0,31
0,00
0,31
Otro
0,00
0,00
0,00
| | |
| --- | --- |
| 5 regiones principales | % |
| Zona Euro | 59,46 |
| Europe - ex Euro | 28,15 |
| Reino Unido | 12,39 |
| Estados Unidos | 0,00 |
| Canadá | 0,00 |
5 mayores sectores
%
Servicios Financieros
20,15
Consumo Defensivo
14,20
Salud
12,25
Industria
12,08
Consumo Cíclico
10,01