Cómo se ha comportado este fondo
31/12/2018
Crecimiento de 1.000 (EUR)
Gráfico Avanzado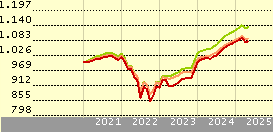 Fondo
5,2
3,0
7,4
6,4
-3,8
+/-Cat
1,5
1,5
-0,2
0,3
0,5
+/-Ind
-0,6
2,0
-1,7
-0,5
0,1
 
Benchmark de la Categoría: BBgBarc Pan Euro HY Euro TR...
Estadística Rápida
VL
21/01/2019
 
EUR 32,64
Cambio del día
 
0,09%
Categoría Morningstar™
 
RF Bonos Alto Rendimiento EUR
ISIN
 
LU0141799501
Patrimonio (Mil)
21/01/2019
 
EUR 3966,67
Patrimonio Clase (Mil)
21/01/2019
 
EUR 345,67
Comisión Máx. Suscripción
 
3,00%
Gastos Corrientes
19/11/2018
 
1,32%

*  Este informe y rating fueron emitidos para una clase diferente de este mismo fondo. La rentabilidad y la estructura de comisiones de este fondo puede variar de lo mencionado aquí.
Analyst Report
We think its experienced team and strong process can help this fund outperform peers in spite of its large size. The three portfolio managers of Nordea-1 European High Yield, Sandro Näf, Henrik Østergaard, and Torben Skødeberg, have worked...
Haga clic aquí para leer el análisis
Pilares Morningstar
Personal
Positive
Firma Gestora
Neutral
Proceso
Positive
Performance
Positive
Precio
Neutral
Objetivo de inversión: Nordea 1 - European High Yield Bond Fund BP EUR
Este Subfondo pretende conservar el capital del inversor y proporcionar una rentabilidad superior al promedio del mercado europeo de bonos de alto rendimiento. Este Subfondo utiliza asimismo su índice de referencia como benchmark para los fines de inversión. Este Subfondo invertirá un mínimo de dos tercios de su patrimonio total (tras deducirse el efectivo) en bonos de alto rendimiento con cupón fijo, cupón fijo y contingente o cupón variable emitidos por sociedades con domicilio en Europa o que realicen la mayor parte de su actividad económica en este continente.
Returns
| | |
| --- | --- |
| Rentabilidades acumul. % | 21/01/2019 |
| Año | 2,00 |
| 3 años anualiz. | 4,52 |
| 5 años anualiz. | 3,74 |
| 10 años anualiz. | 11,95 |
| | | |
| --- | --- | --- |
| Rendimento a 12 meses |   | 0,00 |
Gestión
Nombre del gestor
Fecha Inicio
Torben Skødeberg
18/01/2002
Sandro Naef
18/01/2002
Click here to see others
Creación del fondo
04/01/2006
Benchmark de la Categoría
Benchmark de fondos
Benchmark Morningstar
ICE BofAML Euran Ccy HY Constnd TR HEUR
BBgBarc Pan Euro HY Euro TR EUR
Target Market
Role In Portfolio
Standalone / Core
No específico
Component
No específico
Otro
No específico
Primary Objective
Preservación
No específico
Crecim
Sí
Ingresos
No específico
Cobertura (hedging)
No
Otro
No específico
Qué posee el fondo  Nordea 1 - European High Yield Bond Fund BP EUR
31/12/2018
Renta Fija
Vencimiento efectivo
12,22
Duración efectiva
3,55
Style Box® de Morningstar
Estilo de renta fija
Colocación de activos
 
% largo
% corto
% patrimonio
Acciones
0,00
0,00
0,00
Obligaciones
90,49
0,00
90,49
Efectivo
6,11
0,00
6,11
Otro
3,40
0,00
3,40