Cómo se ha comportado este fondo
31/03/2019
Crecimiento de 1.000 (EUR)
Gráfico Avanzado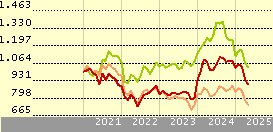 Fondo
16,9
-15,4
2,7
-12,1
21,0
+/-Cat
-2,5
1,7
-3,4
-3,1
2,4
+/-Ind
-3,0
-5,9
-1,1
-12,6
15,6
 
Benchmark de la Categoría: MSCI World/Biotechnology NR...
Estadística Rápida
VL
18/04/2019
 
USD 29,22
Cambio del día
 
0,42%
Categoría Morningstar™
 
RV Sector Biotecnología
ISIN
 
LU0109394709
Patrimonio (Mil)
31/03/2019
 
USD 1868,74
Patrimonio Clase (Mil)
31/03/2019
 
USD 1485,01
Comisión Máx. Suscripción
 
5,75%
Gastos Corrientes
25/01/2019
 
1,82%

*  Este informe y rating fueron emitidos para una clase diferente de este mismo fondo. La rentabilidad y la estructura de comisiones de este fondo puede variar de lo mencionado aquí.
Analyst Report
Franklin Biotechnology Discovery doesn't stand out from passive alternatives. It receives a Morningstar Analyst Rating of Neutral.Evan McCulloch has led this strategy since 2000, and he joined as comanager in 1997. That gives him a longer tenure...
Haga clic aquí para leer el análisis
Pilares Morningstar
Personal
Neutral
Firma Gestora
Neutral
Proceso
Neutral
Performance
Neutral
Precio
Neutral
Objetivo de inversión: Franklin Biotechnology Discovery Fund A(acc)USD
El Fondo tiene por objeto lograr una revalorización del capital invirtiendo principalmente en valores de renta variable de empresas de biotecnología y empresas de investigación ubicadas principalmente en los EE.UU.
Returns
| | |
| --- | --- |
| Rentabilidades acumul. % | 18/04/2019 |
| Año | 12,19 |
| 3 años anualiz. | 2,47 |
| 5 años anualiz. | 9,68 |
| 10 años anualiz. | 16,19 |
| | | |
| --- | --- | --- |
| Rendimento a 12 meses |   | 0,00 |
Gestión
Nombre del gestor
Fecha Inicio
Evan McCulloch
01/11/2000
Wendy Lam
01/09/2018
Click here to see others
Creación del fondo
03/04/2000
Benchmark de la Categoría
Benchmark de fondos
Benchmark Morningstar
NASDAQ Biotechnology PR USD
MSCI World/Biotechnology NR USD
Target Market
Role In Portfolio
Standalone / Core
No específico
Component
No específico
Otro
No específico
Primary Objective
Preservación
No específico
Crecim
Sí
Ingresos
No específico
Cobertura (hedging)
No específico
Otro
No específico
Qué posee el fondo  Franklin Biotechnology Discovery Fund A(acc)USD
31/03/2019
Style Box® de Morningstar
Estilo de acciones
Colocación de activos
 
% largo
% corto
% patrimonio
Acciones
96,85
0,00
96,85
Obligaciones
0,00
0,00
0,00
Efectivo
2,39
0,00
2,39
Otro
0,76
0,00
0,76
| | |
| --- | --- |
| 5 regiones principales | % |
| Estados Unidos | 92,86 |
| Reino Unido | 3,72 |
| Zona Euro | 2,22 |
| Canadá | 0,69 |
| Europe - ex Euro | 0,51 |
5 mayores sectores
%
Salud
100,00