Cómo se ha comportado este fondo
28/02/2019
Crecimiento de 1.000 (EUR)
Gráfico Avanzado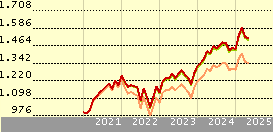 Fondo
8,2
2,5
10,3
-10,6
10,5
+/-Cat
-2,6
2,8
0,1
2,2
0,3
+/-Ind
-0,1
-0,1
0,1
0,0
-0,1
 
Benchmark de la Categoría: MSCI Europe NR EUR
Estadística Rápida
VL
22/03/2019
 
EUR 19,80
Cambio del día
 
-0,99%
Categoría Morningstar™
 
RV Europa Cap. Grande Blend
ISIN
 
IE0007987690
Patrimonio (Mil)
22/03/2019
 
USD 4345,94
Patrimonio Clase (Mil)
22/03/2019
 
EUR 135,34
Comisión Máx. Suscripción
 
-
Gastos Corrientes
18/02/2019
 
0,35%

*  Este informe y rating fueron emitidos para una clase diferente de este mismo fondo. La rentabilidad y la estructura de comisiones de este fondo puede variar de lo mencionado aquí.
Analyst Report
This fund represents a sensible way to get broad and diversified exposure to companies from developed Europe. The fund's portfolio represents 85% of the European developed equity market. Compared with the average offering in the Europe Large Cap...
Haga clic aquí para leer el análisis
Pilares Morningstar
Personal
Positive
Firma Gestora
Positive
Proceso
Positive
Performance
Positive
Precio
Positive
Objetivo de inversión: Vanguard European Stock Index Fund Investor EUR Accumulation
The Fund seeks to provide long-term growth of capital by tracking the performance of the Morgan Stanley Capital International Europe Index (the "Index"), which is made up of common stocks of companies located in Austria, Belgium, Denmark, Finland, France, Germany, Greece, Ireland, Italy, the Netherlands, Norway, Portugal, Spain, Sweden, Switzerland and the United Kingdom.
Returns
| | |
| --- | --- |
| Rentabilidades acumul. % | 22/03/2019 |
| Año | 12,05 |
| 3 años anualiz. | 6,54 |
| 5 años anualiz. | 5,53 |
| 10 años anualiz. | 10,90 |
| | | |
| --- | --- | --- |
| Rendimento a 12 meses |   | 0,00 |
Gestión
Nombre del gestor
Fecha Inicio
No Suministrado
14/09/1998
Creación del fondo
08/10/1999
Benchmark de la Categoría
Benchmark de fondos
Benchmark Morningstar
MSCI Europe NR USD
MSCI Europe NR EUR
Target Market
Role In Portfolio
Standalone / Core
No específico
Component
No específico
Otro
No específico
Primary Objective
Preservación
No
Crecim
Sí
Ingresos
No
Cobertura (hedging)
No específico
Otro
No específico
Qué posee el fondo  Vanguard European Stock Index Fund Investor EUR Accumulation
28/02/2019
Style Box® de Morningstar
Estilo de acciones
Colocación de activos
 
% largo
% corto
% patrimonio
Acciones
99,92
0,00
99,92
Obligaciones
0,00
0,00
0,00
Efectivo
0,03
0,00
0,03
Otro
0,06
0,00
0,06
| | |
| --- | --- |
| 5 regiones principales | % |
| Zona Euro | 49,04 |
| Reino Unido | 26,50 |
| Europe - ex Euro | 22,46 |
| Estados Unidos | 1,33 |
| Asia - Emergente | 0,37 |
5 mayores sectores
%
Servicios Financieros
19,17
Consumo Defensivo
13,79
Salud
13,64
Industria
11,94
Consumo Cíclico
10,90