Cómo se ha comportado este fondo
31/01/2019
Crecimiento de 1.000 (EUR)
Gráfico Avanzado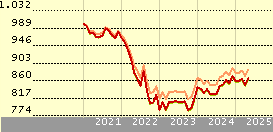 Fondo
1,3
2,9
-0,1
0,7
1,1
+/-Cat
0,4
0,6
0,1
0,7
0,3
+/-Ind
-0,4
-0,3
-0,3
-0,2
0,0
 
Benchmark de la Categoría: FTSE EMU GBI EUR
Estadística Rápida
VL
14/02/2019
 
EUR 212,68
Cambio del día
 
-0,01%
Categoría Morningstar™
 
RF Deuda Pública EUR
ISIN
 
IE0007472115
Patrimonio (Mil)
14/02/2019
 
EUR 5841,92
Patrimonio Clase (Mil)
14/02/2019
 
EUR 67,03
Comisión Máx. Suscripción
 
-
Gastos Corrientes
18/02/2019
 
0,25%
Analyst Report
Vanguard Euro Government Bond Index Fund is in solid stead to outperform the Morningstar Category average. However, its high fee relative to passive peers stops us from awarding it our highest accolade. The fund retains a Morningstar Analyst...
Haga clic aquí para leer el análisis
Pilares Morningstar
Personal
Positive
Firma Gestora
Positive
Proceso
Positive
Performance
Positive
Precio
Neutral
Objetivo de inversión: Vanguard Euro Government Bond Index Fund Investor EUR Accumulation
El Fondo tiene por objeto proporcionar rendimientos compatibles con el desempeño de la Lehman Brothers Global Aggregate Euro Government Bond Index (el "Index") que es un mercado que posee un índice ponderado de los bonos denominados en euros del gobierno de renta fija.
Returns
| | |
| --- | --- |
| Rentabilidades acumul. % | 14/02/2019 |
| Año | 0,82 |
| 3 años anualiz. | 0,94 |
| 5 años anualiz. | 3,03 |
| 10 años anualiz. | 3,78 |
| | | |
| --- | --- | --- |
| Rendimento a 12 meses |   | 0,00 |
Gestión
Nombre del gestor
Fecha Inicio
No Suministrado
29/09/2000
Creación del fondo
18/04/2001
Benchmark de la Categoría
Benchmark de fondos
Benchmark Morningstar
BBgBarc GA EUR Govt Float Adj TR EUR
FTSE EMU GBI EUR
Target Market
Role In Portfolio
Standalone / Core
No específico
Component
No específico
Otro
No específico
Primary Objective
Preservación
No
Crecim
Sí
Ingresos
No
Cobertura (hedging)
No
Otro
No específico
Qué posee el fondo  Vanguard Euro Government Bond Index Fund Investor EUR Accumulation
31/12/2018
Renta Fija
Vencimiento efectivo
8,90
Duración efectiva
7,31
Style Box® de Morningstar
Estilo de renta fija
Colocación de activos
 
% largo
% corto
% patrimonio
Acciones
0,00
0,00
0,00
Obligaciones
100,00
0,00
100,00
Efectivo
0,00
0,00
0,00
Otro
0,00
0,00
0,00