Cómo se ha comportado este fondo
31/03/2017
Crecimiento de 1.000 (EUR)
Gráfico Avanzado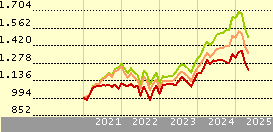 Fondo
24,2
10,5
2,9
10,2
4,1
+/-Cat
4,0
-4,8
-3,9
-0,2
0,0
+/-Ind
3,1
-7,6
-3,1
-5,5
1,3
 
Benchmark de la Categoría: MSCI World Value NR USD
Estadística Rápida
VL
27/04/2017
 
EUR 17,70
Cambio del día
 
-0,17%
Categoría Morningstar™
 
RV Global Cap. Grande Value
ISIN
 
LU0114760746
Patrimonio (Mil)
31/03/2017
 
EUR 7829,98
Patrimonio Clase (Mil)
31/03/2017
 
EUR 7042,20
Comisión Máx. Suscripción
 
5,75%
Gastos Corrientes
27/01/2017
 
1,84%
Analyst Report
Templeton Growth remains a mixed bag overall, and it retains a Morningstar Analyst Rating of Neutral.

Lead manager Norm Boersma and backup managers Tucker Scott, James Harper, and Heather Arnold are Templeton veterans who have good credentials...
Haga clic aquí para leer el análisis
Pilares Morningstar
Personal
Positive
Firma Gestora
Positive
Proceso
Neutral
Performance
Neutral
Precio
Neutral
Objetivo de inversión: Templeton Growth (Euro) Fund A(acc)EUR (EUR)
Revalorización del capital a largo plazo invirtiendo en acciones de todo el mundo. La divisa base del fondo es en Euro.
Returns
| | |
| --- | --- |
| Rentabilidades acumul. % | 27/04/2017 |
| Año | 3,09 |
| 3 años anualiz. | 8,26 |
| 5 años anualiz. | 12,16 |
| 10 años anualiz. | 3,38 |
| | | |
| --- | --- | --- |
| Rendimento a 12 meses |   | 0,00 |
Gestión
Nombre del gestor
Fecha Inicio
Norman Boersma
01/03/2011
James Harper
01/08/2010
Click here to see others
Creación del fondo
09/08/2000
Benchmark de la Categoría
Benchmark de fondos
Benchmark Morningstar
MSCI World NR USD
MSCI World Value NR USD
Qué posee el fondo  Templeton Growth (Euro) Fund A(acc)EUR (EUR)
31/03/2017
Style Box® de Morningstar
Estilo de acciones
Colocación de activos
 
% largo
% corto
% patrimonio
Acciones
91,63
0,00
91,63
Obligaciones
1,07
0,00
1,07
Efectivo
7,22
0,01
7,21
Otro
0,08
0,00
0,08
| | |
| --- | --- |
| 5 regiones principales | % |
| Estados Unidos | 37,54 |
| Zona Euro | 19,93 |
| Reino Unido | 13,08 |
| Asia - Desarrollada | 9,65 |
| Asia - Emergente | 5,16 |
5 mayores sectores
%
Servicios Financieros
24,79
Tecnología
17,52
Salud
16,27
Energía
11,29
Servicios de Comunicación
9,41