Cómo se ha comportado este fondo
31/10/2018
Crecimiento de 1.000 (EUR)
Gráfico Avanzado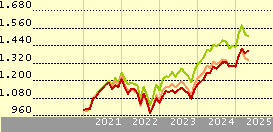 Fondo
11,6
14,1
-3,2
11,5
-8,3
+/-Cat
6,3
3,3
-2,8
1,3
-2,3
+/-Ind
4,8
5,9
-5,7
1,2
-3,8
 
Benchmark de la Categoría: MSCI Europe NR EUR
Estadística Rápida
VL
16/11/2018
 
EUR 15,00
Cambio del día
 
-0,46%
Categoría Morningstar™
 
RV Europa Cap. Grande Blend
ISIN
 
LU0119753308
Patrimonio (Mil)
31/10/2018
 
USD 5506,45
Patrimonio Clase (Mil)
16/11/2018
 
EUR 317,48
Comisión Máx. Suscripción
 
3,00%
Gastos Corrientes
14/02/2018
 
2,53%

*  Este informe y rating fueron emitidos para una clase diferente de este mismo fondo. La rentabilidad y la estructura de comisiones de este fondo puede variar de lo mencionado aquí.
Analyst Report
The combination of quantitative stock selection and volatility control is paying off. Invesco Pan European Structured Equity pursues a benchmark-agnostic approach that aims to select the most attractive low-volatility stocks. Hence, this is not...
Haga clic aquí para leer el análisis
Pilares Morningstar
Personal
Positive
Firma Gestora
Neutral
Proceso
Positive
Performance
Positive
Precio
Positive
Objetivo de inversión: Invesco Funds - Invesco Pan European Structured Equity Fund E Accumulation EUR
El objetivo del fondo es obtener crecimiento de capital a largo plazo invirtiendo en una cartera diversificada de compañías de gran capitalización con sede en un país europeo o que realicen la mayoría de su actividad en países europeos (incluyendo Reino Unido).
Returns
| | |
| --- | --- |
| Rentabilidades acumul. % | 16/11/2018 |
| Año | -8,76 |
| 3 años anualiz. | -0,44 |
| 5 años anualiz. | 5,11 |
| 10 años anualiz. | 8,96 |
| | | |
| --- | --- | --- |
| Rendimento a 12 meses |   | 0,00 |
Gestión
Nombre del gestor
Fecha Inicio
Michael Fraikin
28/06/2002
Thorsten Paarmann
30/03/2007
Creación del fondo
06/11/2000
Benchmark de la Categoría
Benchmark de fondos
Benchmark Morningstar
MSCI Europe NR EUR
MSCI Europe NR EUR
Target Market
Role In Portfolio
Standalone / Core
No específico
Component
No específico
Otro
No específico
Primary Objective
Preservación
No específico
Crecim
Sí
Ingresos
No específico
Cobertura (hedging)
No específico
Otro
No específico
Qué posee el fondo  Invesco Funds - Invesco Pan European Structured Equity Fund E Accumulation EUR
31/10/2018
Style Box® de Morningstar
Estilo de acciones
Colocación de activos
 
% largo
% corto
% patrimonio
Acciones
99,78
0,00
99,78
Obligaciones
0,16
0,00
0,16
Efectivo
0,29
0,22
0,06
Otro
0,00
0,00
0,00
| | |
| --- | --- |
| 5 regiones principales | % |
| Europe - ex Euro | 35,45 |
| Reino Unido | 34,59 |
| Zona Euro | 27,71 |
| Estados Unidos | 2,26 |
| Canadá | 0,00 |
5 mayores sectores
%
Consumo Cíclico
22,51
Consumo Defensivo
20,61
Industria
13,61
Salud
13,25
Materiales Básicos
10,98