Cómo se ha comportado este fondo
30/04/2017
Crecimiento de 1.000 (EUR)
Gráfico Avanzado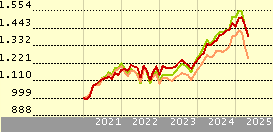 Fondo
7,2
15,4
8,3
12,2
1,2
+/-Cat
-0,1
-0,4
0,9
5,2
-1,7
+/-Ind
-5,2
-4,4
-2,3
1,8
-2,3
 
Benchmark de la Categoría: Cat 25%Barclays US Agg TR&7...
Estadística Rápida
VL
24/05/2017
 
USD 6590,37
Cambio del día
 
0,11%
Categoría Morningstar™
 
Mixtos Agresivos USD
ISIN
 
LU0068578508
Patrimonio (Mil)
24/05/2017
 
USD 9526,87
Patrimonio Clase (Mil)
24/05/2017
 
USD 1594,48
Comisión Máx. Suscripción
 
-
Gastos Corrientes
04/05/2017
 
2,20%
Analyst Report
Ownership changes at First Eagle, the firm subadvising this fund's management, and capacity questions have added to our long-standing reservation on its fee structure, and have eroded our conviction.

It has been an eventful year for First...
Haga clic aquí para leer el análisis
Pilares Morningstar
Personal
Positive
Firma Gestora
Negative
Proceso
Positive
Performance
Positive
Precio
Negative
Objetivo de inversión: First Eagle Amundi International Fund Class AU-C Shares
Gestión profesional con el objetivo de obtener la mayor rentabilidad posible (no tiene un benchmark de referencia que igualar o batir). Enfoque: Bottom-up.
Returns
| | |
| --- | --- |
| Rentabilidades acumul. % | 24/05/2017 |
| Año | -0,64 |
| 3 años anualiz. | 10,33 |
| 5 años anualiz. | 9,30 |
| 10 años anualiz. | 5,73 |
| | | |
| --- | --- | --- |
| Rendimento a 12 meses |   | 0,00 |
Gestión
Nombre del gestor
Fecha Inicio
Matthew McLennan
01/09/2008
Kimball Brooker
01/03/2011
Creación del fondo
12/08/1996
Benchmark de la Categoría
Benchmark de fondos
Benchmark Morningstar
Not Benchmarked
Cat 25%Barclays US Agg TR&75%FTSE Wld TR
Qué posee el fondo  First Eagle Amundi International Fund Class AU-C Shares
31/03/2017
Style Box® de Morningstar
Estilo de acciones
Style Box® de Morningstar
Estilo de renta fija

Colocación de activos
 
% largo
% corto
% patrimonio
Acciones
69,98
0,00
69,98
Obligaciones
0,91
0,00
0,91
Efectivo
52,80
30,37
22,43
Otro
6,68
0,00
6,68
Renta Fija
Vencimiento efectivo
-
Duración efectiva
-

| | |
| --- | --- |
| 5 regiones principales | % |
| Estados Unidos | 47,73 |
| Japón | 17,98 |
| Zona Euro | 11,48 |
| Reino Unido | 6,05 |
| Canadá | 4,91 |
5 mayores sectores
%
Servicios Financieros
18,40
Industria
17,79
Tecnología
14,58
Materiales Básicos
13,63
Energía
7,65