Cómo se ha comportado este fondo
30/06/2014
Crecimiento de 1.000 (EUR)
Gráfico Avanzado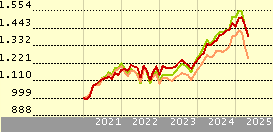 Fondo
21,9
1,1
8,8
7,2
5,5
+/-Cat
6,7
5,0
0,0
-0,1
0,4
+/-Ind
2,5
0,6
-3,3
-5,2
-1,2
 
Benchmark: Cat 25%Barcalys US Agg TR&7...
Estadística Rápida
VL
29/07/2014
 
USD 6111,74
Cambio del día
 
0,17%
Categoría Morningstar™
 
Mixtos Agresivos USD
ISIN
 
LU0068578508
Patrimonio (Mil)
29/07/2014
 
USD 7428,78
Patrimonio Clase (Mil)
29/07/2014
 
USD 2222,20
Comisión Máx. Suscripción
 
5,00%
Ratio de costes netos
28/02/2013
 
2,27%
Analyst Report
Despite high fees, the fund delivers.

Amundi changed the fund's performance fee calculation for the better in 2011, but its TER remains among the highest in the category. Despite that hurdle, the fund's positive traits should continue to keep it...
Haga clic aquí para leer el análisis
Pilares Morningstar
Personal
Positive
Firma Gestora
Negative
Proceso
Positive
Performance
Positive
Precio
Negative
Objetivo de inversión: First Eagle Amundi International Fund Class AU-C Shares
Gestión profesional con el objetivo de obtener la mayor rentabilidad posible (no tiene un benchmark de referencia que igualar o batir). Enfoque: Bottom-up.
Returns
| | |
| --- | --- |
| Rentabilidades acumul. % | 29/07/2014 |
| Año | 8,02 |
| 3 años anualiz. | 9,50 |
| 5 años anualiz. | 11,00 |
| 10 años anualiz. | 7,16 |
| | | |
| --- | --- | --- |
| Rendimento a 12 meses |   | 0,00 |
Gestión
Nombre del gestor
Fecha Inicio
Abhay Deshpande
01/03/2009
Matthew McLennan
01/09/2008
Click here to see others
Creación del fondo
12/08/1996
Benchmark
Benchmark de fondos
Benchmark Morningstar
Sin benchmark
Cat 25%Barcalys US Agg TR&75%FTSE Wld TR
Qué posee el fondo  First Eagle Amundi International Fund Class AU-C Shares
31/03/2014
Style Box® de Morningstar
Estilo de acciones
Style Box® de Morningstar
Estilo de renta fija

Colocación de activos
 
% largo
% corto
% patrimonio
Acciones
70,51
0,00
70,51
Obligaciones
0,01
0,00
0,01
Efectivo
71,99
46,58
25,42
Otro
4,06
0,00
4,06
Renta Fija
Vencimiento efectivo
-
Duración efectiva
-

| | |
| --- | --- |
| 5 regiones principales | % |
| Estados Unidos | 44,22 |
| Japón | 18,34 |
| Zona Euro | 15,97 |
| Canadá | 7,46 |
| Reino Unido | 4,15 |
5 mayores sectores
%
No hay datos disponibles