Cómo se ha comportado este fondo
30/06/2018
Crecimiento de 1.000 (EUR)
Gráfico Avanzado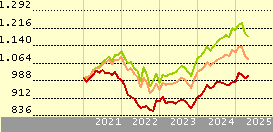 Fondo
8,8
0,7
3,9
0,1
-1,3
+/-Cat
2,0
-1,8
0,8
-4,4
-0,2
+/-Ind
-6,4
-4,9
-3,8
-4,7
-2,8
 
Benchmark de la Categoría: Cat 50%Barclays EurAgg TR&5...
Estadística Rápida
VL
19/07/2018
 
EUR 648,68
Cambio del día
 
0,10%
Categoría Morningstar™
 
Mixtos Moderados EUR - Global
ISIN
 
FR0010135103
Patrimonio (Mil)
18/07/2018
 
EUR 19769,83
Patrimonio Clase (Mil)
18/07/2018
 
EUR 17030,83
Comisión Máx. Suscripción
 
4,00%
Gastos Corrientes
26/02/2018
 
1,76%
Analyst Report
The team's proven expertise in asset allocation and fixed income should pay off for long-term investors. This moderate-allocation fund, which includes up to 50% in equities, replicates the security selection of the firm's global-equity flagship...
Haga clic aquí para leer el análisis
Pilares Morningstar
Personal
Positive
Firma Gestora
Neutral
Proceso
Neutral
Performance
Positive
Precio
Negative
Objetivo de inversión: Carmignac Patrimoine A EUR Acc
El objetivo de gestión del Fondo es obtener un rendimiento superior al de su indicador de referencia compuesto en un 50% por el índice mundial Morgan Stanley de renta variable internacional MSCI AC World Index, convertido a euros y en un 50% por el índice mundial de renta fija Citigroup WGBI All Maturities Eur, así como la búsqueda de un rendimiento absoluto y regular, compatible con la exigencia de seguridad que requiera la creación de un patrimonio a medio plazo, teniendo en cuenta su perfil de riesgo, es decir, una inversión mínima del 50% en obligaciones, bonos del Tesoro, títulos de crédito negociables en los mercados europeos e internacionales, invirtiéndose el resto en renta variable europea e internacional.
Returns
| | |
| --- | --- |
| Rentabilidades acumul. % | 19/07/2018 |
| Año | -0,17 |
| 3 años anualiz. | -1,75 |
| 5 años anualiz. | 3,26 |
| 10 años anualiz. | 4,92 |
| | | |
| --- | --- | --- |
| Rendimento a 12 meses |   | 0,00 |
Gestión
Nombre del gestor
Fecha Inicio
Edouard Carmignac
07/11/1989
Rose Ouahba
02/05/2007
Creación del fondo
07/11/1989
Benchmark de la Categoría
Benchmark de fondos
Benchmark Morningstar
50% FTSE WGBI All Maturities EUR ,  50% MSCI ACWI NR USD
Cat 50%Barclays EurAgg TR&50%FTSE Wld TR
Target Market
Role In Portfolio
Standalone / Core
No específico
Component
No específico
Otro
No específico
Primary Objective
Preservación
No específico
Crecim
Sí
Ingresos
No específico
Cobertura (hedging)
No específico
Otro
No específico
Qué posee el fondo  Carmignac Patrimoine A EUR Acc
30/06/2018
Style Box® de Morningstar
Estilo de acciones
Style Box® de Morningstar
Estilo de renta fija

Colocación de activos
 
% largo
% corto
% patrimonio
Acciones
47,08
20,23
26,84
Obligaciones
133,49
72,30
61,20
Efectivo
88,48
76,83
11,65
Otro
0,31
0,00
0,31
Renta Fija
Vencimiento efectivo
4,35
Duración efectiva
3,84

| | |
| --- | --- |
| 5 regiones principales | % |
| Estados Unidos | 53,60 |
| Asia - Emergente | 14,44 |
| Canadá | 9,02 |
| Zona Euro | 8,11 |
| Iberoamérica | 7,13 |
5 mayores sectores
%
Tecnología
22,72
Servicios Financieros
18,12
Consumo Cíclico
16,89
Materiales Básicos
11,01
Energía
10,15