Cómo se ha comportado este fondo
31/01/2019
Crecimiento de 1.000 (EUR)
Gráfico Avanzado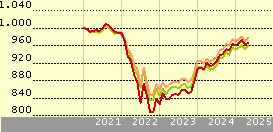 Fondo
0,7
5,8
4,6
-2,9
1,5
+/-Cat
1,3
1,7
2,2
-0,7
0,5
+/-Ind
1,3
1,1
2,2
-1,6
0,4
 
Benchmark de la Categoría: BBgBarc Euro Agg Corps TR EUR
Estadística Rápida
VL
18/02/2019
 
EUR 22,21
Cambio del día
 
0,09%
Categoría Morningstar™
 
RF Deuda Corporativa EUR
ISIN
 
LU0113257694
Patrimonio (Mil)
18/02/2019
 
EUR 8127,68
Patrimonio Clase (Mil)
18/02/2019
 
EUR 1323,10
Comisión Máx. Suscripción
 
3,00%
Gastos Corrientes
26/10/2018
 
1,04%

*  Este informe y rating fueron emitidos para una clase diferente de este mismo fondo. La rentabilidad y la estructura de comisiones de este fondo puede variar de lo mencionado aquí.
Analyst Report
A thematic approach to credit selection has driven Schroder ISF Euro Corporate Bond's solid results since Patrick Vogel took over.The credit team at Schroders was part of a large reorganisation in 2012, which saw a number of analysts and...
Haga clic aquí para leer el análisis
Pilares Morningstar
Personal
Positive
Firma Gestora
Positive
Proceso
Positive
Performance
Positive
Precio
Negative
Objetivo de inversión: Schroder International Selection Fund EURO Corporate Bond A Accumulation EUR
Proporcionar un rendimiento de crecimiento de capital y de ingresos principalmente mediante la inversión en una cartera de bonos y otros títulos de renta fija y flotante denominados en euros y emitidos por gobiernos, organismos públicos y emisores supranacionales y empresariales. El fondo mantendrá un mínimo del 80% de su patrimonio neto en valores no soberanos.
Returns
| | |
| --- | --- |
| Rentabilidades acumul. % | 18/02/2019 |
| Año | 2,08 |
| 3 años anualiz. | 3,42 |
| 5 años anualiz. | 3,37 |
| 10 años anualiz. | 4,96 |
| | | |
| --- | --- | --- |
| Rendimento a 12 meses |   | 0,00 |
Gestión
Nombre del gestor
Fecha Inicio
Patrick Vogel
27/08/2012
Creación del fondo
30/06/2000
Benchmark de la Categoría
Benchmark de fondos
Benchmark Morningstar
ER00 min key rate dur-mtch hdg bkt
BBgBarc Euro Agg Corps TR EUR
Target Market
Role In Portfolio
Standalone / Core
No específico
Component
No específico
Otro
No específico
Primary Objective
Preservación
No específico
Crecim
Sí
Ingresos
Sí
Cobertura (hedging)
No específico
Otro
No específico
Qué posee el fondo  Schroder International Selection Fund EURO Corporate Bond A Accumulation EUR
31/10/2018
Renta Fija
Vencimiento efectivo
22,29
Duración efectiva
5,21
Style Box® de Morningstar
Estilo de renta fija
Colocación de activos
 
% largo
% corto
% patrimonio
Acciones
0,00
0,00
0,00
Obligaciones
98,88
0,13
98,75
Efectivo
1,56
1,37
0,19
Otro
1,06
0,00
1,06