Cómo se ha comportado este fondo
31/03/2018
Crecimiento de 1.000 (EUR)
Gráfico Avanzado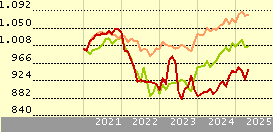 Fondo
12,7
9,7
-5,5
14,4
1,6
+/-Cat
-
-
-
-
-
+/-Ind
-
-
-
-
-
 
Benchmark de la Categoría: -
Estadística Rápida
VL
19/04/2018
 
EUR 197,06
Cambio del día
 
0,34%
Categoría Morningstar™
 
Alt - Multiestrategia
ISIN
 
LU0095938881
Patrimonio (Mil)
19/04/2018
 
EUR 5171,82
Patrimonio Clase (Mil)
19/04/2018
 
EUR 1055,36
Comisión Máx. Suscripción
 
5,00%
Gastos Corrientes
01/01/2018
 
1,45%

*  Este informe y rating fueron emitidos para una clase diferente de este mismo fondo. La rentabilidad y la estructura de comisiones de este fondo puede variar de lo mencionado aquí.
Analyst Report
Talib Sheikh resigned from JPMorgan in mid-February; however, JPM Global Macro Opportunities' other two lead managers, James Elliot and Shrenick Shah, remain. Sheikh's main focus was fixed-income positioning, but the managers are supported by a...
Haga clic aquí para leer el análisis
Pilares Morningstar
Personal
Positive
Firma Gestora
Positive
Proceso
Neutral
Performance
Positive
Precio
Positive
Objetivo de inversión: JPMorgan Investment Funds - Global Macro Opportunities Fund A (acc) - EUR
Obtener una apreciación de capital superior a su índice de referencia en efectivo mediante la inversión principalmente en títulos a escala mundial haciendo uso de estrategias de derivados, cuando proceda.
Returns
| | |
| --- | --- |
| Rentabilidades acumul. % | 19/04/2018 |
| Año | 2,94 |
| 3 años anualiz. | 4,16 |
| 5 años anualiz. | 7,95 |
| 10 años anualiz. | 5,04 |
| | | |
| --- | --- | --- |
| Rendimento a 12 meses |   | 0,00 |
Gestión
Nombre del gestor
Fecha Inicio
Shrenick Shah
21/12/2012
James Elliot
21/12/2012
Creación del fondo
23/10/1998
Benchmark de la Categoría
Benchmark de fondos
Benchmark Morningstar
ICE LIBOR 1 Month EUR
-
Target Market
Role In Portfolio
Standalone / Core
No específico
Component
No específico
Otro
No específico
Primary Objective
Preservación
No
Crecim
Sí
Ingresos
No específico
Cobertura (hedging)
No específico
Otro
No específico
Qué posee el fondo  JPMorgan Investment Funds - Global Macro Opportunities Fund A (acc) - EUR
31/12/2017
Style Box® de Morningstar
Estilo de acciones
Style Box® de Morningstar
Estilo de renta fija

Colocación de activos
 
% largo
% corto
% patrimonio
Acciones
76,19
0,67
75,52
Obligaciones
4,92
0,00
4,92
Efectivo
24,08
4,51
19,57
Otro
0,00
0,00
0,00
Renta Fija
Vencimiento efectivo
-
Duración efectiva
-

| | |
| --- | --- |
| 5 regiones principales | % |
| Estados Unidos | 27,86 |
| Japón | 17,63 |
| Asia - Emergente | 15,64 |
| Asia - Desarrollada | 14,43 |
| Reino Unido | 9,73 |
5 mayores sectores
%
Tecnología
41,28
Servicios Financieros
29,41
Materiales Básicos
13,25
Industria
5,89
Servicios de Comunicación
3,94