Cómo se ha comportado este fondo
31/10/2018
Crecimiento de 1.000 (EUR)
Gráfico Avanzado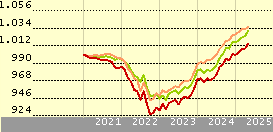 Fondo
2,4
0,7
0,6
0,3
-1,2
+/-Cat
0,6
0,6
-0,2
0,1
0,1
+/-Ind
0,6
0,1
0,0
0,4
-0,8
 
Benchmark de la Categoría: BBgBarc Euro Agg 1-3 Yr TR EUR
Estadística Rápida
VL
16/11/2018
 
EUR 15,78
Cambio del día
 
0,00%
Categoría Morningstar™
 
RF Diversificada Corto Plazo EUR
ISIN
 
LU0093503810
Patrimonio (Mil)
31/10/2018
 
EUR 11488,59
Patrimonio Clase (Mil)
16/11/2018
 
EUR 2620,25
Comisión Máx. Suscripción
 
5,00%
Gastos Corrientes
29/06/2018
 
0,90%

*  Este informe y rating fueron emitidos para una clase diferente de este mismo fondo. La rentabilidad y la estructura de comisiones de este fondo puede variar de lo mencionado aquí.
Analyst Report
A highly experienced manager and an established process drive our favourable view on the fund. Michael Krautzberger, head of BlackRock's euro fixed-income team, has managed the fund since June 2006 and is key to our positive view here. His...
Haga clic aquí para leer el análisis
Pilares Morningstar
Personal
Positive
Firma Gestora
Positive
Proceso
Positive
Performance
Positive
Precio
Negative
Objetivo de inversión: BlackRock Global Funds - Euro Short Duration Bond Fund A2 EUR
El Euro Short Duration Bond Fund busca maximizar la rentabilidad total, invirtiendo, al menos, el 80% de su patrimonio neto total en valores negociables de renta fija con una calificación de solvencia de categoría de inversión. Al menos el 70% del patrimonio neto total del Subfondo se invertirá en valores negociables de renta fija, denominados en euros, con vencimiento inferior a cinco años. El vencimiento medio normalmente no supera los tres años. La exposición al riesgo de cambio se gestiona de forma flexible.
Returns
| | |
| --- | --- |
| Rentabilidades acumul. % | 16/11/2018 |
| Año | -1,31 |
| 3 años anualiz. | -0,15 |
| 5 años anualiz. | 0,58 |
| 10 años anualiz. | 2,30 |
| | | |
| --- | --- | --- |
| Rendimento a 12 meses |   | 0,00 |
Gestión
Nombre del gestor
Fecha Inicio
Michael Krautzberger
30/06/2006
Christopher Allen
01/01/2015
Creación del fondo
04/01/1999
Benchmark de la Categoría
Benchmark de fondos
Benchmark Morningstar
BBgBarc Euro Agg 500MM 1-3 Yr TR EUR
BBgBarc Euro Agg 1-3 Yr TR EUR
Target Market
Role In Portfolio
Standalone / Core
No específico
Component
No específico
Otro
No específico
Primary Objective
Preservación
No específico
Crecim
Sí
Ingresos
Sí
Cobertura (hedging)
No específico
Otro
No específico
Qué posee el fondo  BlackRock Global Funds - Euro Short Duration Bond Fund A2 EUR
31/07/2018
Renta Fija
Vencimiento efectivo
-
Duración efectiva
-
Style Box® de Morningstar
Estilo de renta fija
Colocación de activos
 
% largo
% corto
% patrimonio
Acciones
0,00
0,00
0,00
Obligaciones
146,25
26,57
119,69
Efectivo
25,79
45,89
-20,10
Otro
0,42
0,00
0,42