Cómo se ha comportado este fondo
30/06/2018
Crecimiento de 1.000 (EUR)
Gráfico Avanzado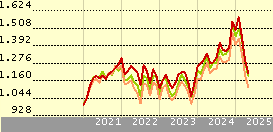 Fondo
24,6
8,0
20,5
-0,5
4,7
+/-Cat
7,7
2,4
-1,5
-3,6
-5,6
+/-Ind
5,1
1,5
-4,4
-1,2
-6,0
 
Benchmark de la Categoría: Russell 2000 TR USD
Estadística Rápida
VL
20/07/2018
 
USD 161,37
Cambio del día
 
-0,50%
Categoría Morningstar™
 
RV USA Cap. Pequeña
ISIN
 
LU0106261612
Patrimonio (Mil)
30/06/2018
 
USD 352,69
Patrimonio Clase (Mil)
20/07/2018
 
USD 91,47
Comisión Máx. Suscripción
 
-
Gastos Corrientes
19/02/2018
 
1,85%

*  Este informe y rating fueron emitidos para una clase diferente de este mismo fondo. La rentabilidad y la estructura de comisiones de este fondo puede variar de lo mencionado aquí.
Analyst Report
Confirmation of a comanager paves the way for change. A seasoned investor, Jenny Jones, has been in charge of this strategy since December 2002. Jones brings over three decades of experience investing in US small caps and has built a stable team...
Haga clic aquí para leer el análisis
Pilares Morningstar
Personal
Positive
Firma Gestora
Positive
Proceso
Positive
Performance
Positive
Precio
Negative
Objetivo de inversión: Schroder International Selection Fund US Smaller Companies A Accumulation USD
Proporcionar crecimiento de capital principalmente a través de la inversión en valores de renta variable de pequeñas sociedades estadounidenses. Se consideran pequeñas sociedades estadounidenses aquellas sociedades que, en el momento de la compra, constituyen el 30% inferior de la capitalización del mercado estadounidense.
Returns
| | |
| --- | --- |
| Rentabilidades acumul. % | 20/07/2018 |
| Año | 7,69 |
| 3 años anualiz. | 6,50 |
| 5 años anualiz. | 12,50 |
| 10 años anualiz. | 12,22 |
| | | |
| --- | --- | --- |
| Rendimento a 12 meses |   | 0,00 |
Gestión
Nombre del gestor
Fecha Inicio
Jenny Jones
30/12/2002
Robert Kaynor
04/04/2018
Creación del fondo
17/01/2000
Benchmark de la Categoría
Benchmark de fondos
Benchmark Morningstar
Russell 2000 TR USD
Russell 2000 TR USD
Target Market
Role In Portfolio
Standalone / Core
No específico
Component
No específico
Otro
No específico
Primary Objective
Preservación
No específico
Crecim
Sí
Ingresos
No específico
Cobertura (hedging)
No específico
Otro
No específico
Qué posee el fondo  Schroder International Selection Fund US Smaller Companies A Accumulation USD
31/05/2018
Style Box® de Morningstar
Estilo de acciones
Colocación de activos
 
% largo
% corto
% patrimonio
Acciones
92,32
0,00
92,32
Obligaciones
2,17
0,00
2,17
Efectivo
5,51
0,00
5,51
Otro
0,00
0,00
0,00
| | |
| --- | --- |
| 5 regiones principales | % |
| Estados Unidos | 97,99 |
| Reino Unido | 0,98 |
| Zona Euro | 0,74 |
| Canadá | 0,29 |
| Iberoamérica | 0,00 |
5 mayores sectores
%
Servicios Financieros
18,69
Industria
18,61
Consumo Cíclico
16,92
Tecnología
16,11
Salud
10,11