Cómo se ha comportado este fondo
31/08/2019
Crecimiento de 1.000 (EUR)
Gráfico Avanzado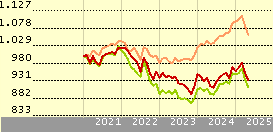 Fondo
7,1
7,7
-6,9
2,4
11,2
+/-Cat
1,7
3,5
-2,1
1,0
1,9
+/-Ind
-0,8
2,6
-1,3
-1,4
-0,3
 
Benchmark de la Categoría: BBgBarc Global Aggregate TR...
Estadística Rápida
VL
20/09/2019
 
EUR 15,20
Cambio del día
 
0,11%
Categoría Morningstar™
 
RF Global
ISIN
 
LU1670720462
Patrimonio (Mil)
20/09/2019
 
EUR 682,91
Patrimonio Clase (Mil)
20/09/2019
 
EUR 93,99
Comisión Máx. Suscripción
 
1,25%
Gastos Corrientes
16/09/2019
 
0,87%
Analyst Report
Manager Jim Leaviss is key to our positive view of M&G Global Macro Bond. We initiate coverage of this Luxembourg SICAV sibling to the longer-standing UK OEIC at a Morningstar Analyst Rating of Silver.Leaviss, M&G's head of retail fixed income,...
Haga clic aquí para leer el análisis
Pilares Morningstar
Personal
Positive
Firma Gestora
Neutral
Proceso
Positive
Performance
Positive
Precio
Negative
Objetivo de inversión: M&G (Lux) Investment Funds 1 - M&G (Lux) Global Macro Bond Fund C EUR Acc
The Fund aims to provide a higher total return (the combination of capital growth and income) than that of the global bond market over any five-year period.
Returns
| | |
| --- | --- |
| Rentabilidades acumul. % | 20/09/2019 |
| Año | 10,29 |
| 3 años anualiz.* | 3,29 |
| 5 años anualiz.* | 4,78 |
| 10 años anualiz.* | - |
| | | |
| --- | --- | --- |
| Rendimento a 12 meses* |   | 0,00 |
Gestión
Nombre del gestor
Fecha Inicio
Jim Leaviss
26/10/2018
Creación del fondo
26/10/2018
Benchmark de la Categoría
Benchmark de fondos
Benchmark Morningstar
BBgBarc Global Aggregate TR USD
BBgBarc Global Aggregate TR USD
Target Market
Role In Portfolio
Standalone / Core
No específico
Component
No específico
Otro
No específico
Primary Objective
Preservación
No específico
Crecim
Sí
Ingresos
No específico
Cobertura (hedging)
No específico
Otro
No específico
Qué posee el fondo  M&G (Lux) Investment Funds 1 - M&G (Lux) Global Macro Bond Fund C EUR Acc
31/08/2019
Renta Fija
Vencimiento efectivo
-
Duración efectiva
-
Style Box® de Morningstar
Estilo de renta fija
Colocación de activos
 
% largo
% corto
% patrimonio
Acciones
0,00
0,00
0,00
Obligaciones
142,80
49,01
93,79
Efectivo
89,33
84,44
4,89
Otro
1,32
0,00
1,32