Cómo se ha comportado este fondo
31/01/2019
Crecimiento de 1.000 (EUR)
Gráfico Avanzado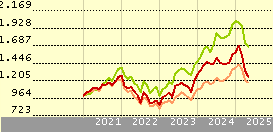 Fondo
-
15,1
23,2
-6,6
9,1
+/-Cat
-
4,7
2,7
-2,2
0,5
+/-Ind
-
0,3
1,8
-8,9
1,8
 
Benchmark de la Categoría: MSCI World/Information Tech...
Estadística Rápida
VL
19/02/2019
 
EUR 144,35
Cambio del día
 
-0,18%
Categoría Morningstar™
 
RV Sector Tecnología
ISIN
 
LU1279334210
Patrimonio (Mil)
15/02/2019
 
USD 5348,78
Patrimonio Clase (Mil)
15/02/2019
 
EUR 391,60
Comisión Máx. Suscripción
 
5,00%
Gastos Corrientes
08/02/2019
 
1,99%
Objetivo de inversión: Pictet - Robotics P EUR
This compartment aims to achieve capital growth by investing mainly in equities and equity related securities (such as convertible bonds, ADR, GDR) issued by companies that contribute to and/or profit from the value chain in robotics and enabling technologies. These investments will be made in compliance with article 41 of the 2010 Act. The Compartment may invest up to 30% of its net assets in China A Shares through (i) the QFII quota granted to an entity of the Pictet Group, (ii) the RQFII quota granted to an entity of the Pictet Group (iii) the Shanghai-Hong Kong Stock Connect programme, (iv) the Shenzhen-Hong Kong Stock Connect programme, and/or (v) any similar acceptable securities trading programmes which may be available to the Compartment in the future as approved by the relevant regulators from time to time. The Compartment may also use financial derivative instruments, such as futures and swaps, on China A Shares.
Returns
| | |
| --- | --- |
| Rentabilidades acumul. % | 19/02/2019 |
| Año | 16,73 |
| 3 años anualiz. | 20,97 |
| 5 años anualiz. | - |
| 10 años anualiz. | - |
| | | |
| --- | --- | --- |
| Rendimento a 12 meses |   | 0,00 |
Gestión
Nombre del gestor
Fecha Inicio
John Gladwyn
03/08/2017
Peter Lingen
01/01/2016
Creación del fondo
07/10/2015
Benchmark de la Categoría
Benchmark de fondos
Benchmark Morningstar
MSCI World NR USD
MSCI World/Information Tech NR USD
Target Market
Role In Portfolio
Standalone / Core
No específico
Component
No específico
Otro
No específico
Primary Objective
Preservación
No específico
Crecim
Sí
Ingresos
No específico
Cobertura (hedging)
No específico
Otro
No específico
Qué posee el fondo  Pictet - Robotics P EUR
31/01/2019
Style Box® de Morningstar
Estilo de acciones
Colocación de activos
 
% largo
% corto
% patrimonio
Acciones
94,06
0,00
94,06
Obligaciones
0,00
0,00
0,00
Efectivo
6,09
0,15
5,94
Otro
0,00
0,00
0,00
| | |
| --- | --- |
| 5 regiones principales | % |
| Estados Unidos | 67,60 |
| Japón | 16,60 |
| Zona Euro | 8,38 |
| Europe - ex Euro | 4,68 |
| Asia - Desarrollada | 1,81 |
5 mayores sectores
%
Tecnología
67,10
Industria
20,65
Salud
12,25