Cómo se ha comportado este fondo
31/08/2018
Crecimiento de 1.000 (EUR)
Gráfico Avanzado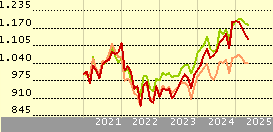 Fondo
15,5
23,6
19,4
30,3
-4,4
+/-Cat
3,2
-1,8
6,8
5,0
-6,1
+/-Ind
2,1
-4,9
8,6
15,0
-4,9
 
Benchmark de la Categoría: MSCI Japan Small Cap NR JPY
Estadística Rápida
VL
18/09/2018
 
EUR 93,18
Cambio del día
 
1,10%
Categoría Morningstar™
 
RV Japón Cap. Med/Peq
ISIN
 
LU0251807987
Patrimonio (Mil)
18/09/2018
 
JPY 173285,86
Patrimonio Clase (Mil)
18/09/2018
 
EUR 21,91
Comisión Máx. Suscripción
 
3,00%
Gastos Corrientes
19/02/2018
 
2,37%

*  Este informe y rating fueron emitidos para una clase diferente de este mismo fondo. La rentabilidad y la estructura de comisiones de este fondo puede variar de lo mencionado aquí.
Analyst Report
While this fund continues to benefit from an experienced manager and considerable analytical resource, we have concerns over how capacity has been managed through 2017. Although the fund is distributed by BNP Paribas Asset Management (through its...
Haga clic aquí para leer el análisis
Pilares Morningstar
Personal
Positive
Firma Gestora
Neutral
Proceso
Neutral
Performance
Positive
Precio
Negative
Objetivo de inversión: Parvest Equity Japan Small Cap Classic EUR Capitalisation
El objetivo de Parvest Japan es valorizar sus activos a medio plazo, invirtiendo en acciones y títulos equivalentes de sociedades japonesas. - Las acciones emitidas por sociedades de pequeña capitalización, que tengan su domicilio social en, o que lleven la mayoría de sus negocios en Japón, cuyas capitalizaciones bursátiles en el momento de adquisición haya sido un maximo de JPY 500 billones. El resto de los activos pueden invertirse en acciones y valores equivalentes a renta variable diferentes a los contemplados en la política de inversión del fondo, bonos, incluyendo los bonos convertibles, instrumentos del mercado monetario o en efectivo. Índice de referencia: Nikkei 300.
Returns
| | |
| --- | --- |
| Rentabilidades acumul. % | 18/09/2018 |
| Año | -7,14 |
| 3 años anualiz. | 16,77 |
| 5 años anualiz.* | 15,53 |
| 10 años anualiz.* | 15,10 |
| | | |
| --- | --- | --- |
| Rendimento a 12 meses |   | 0,00 |
Gestión
Nombre del gestor
Fecha Inicio
Shunsuke Matsushima
26/04/2004
Tadao Kimura
28/07/2006
Creación del fondo
13/05/2015
Benchmark de la Categoría
Benchmark de fondos
Benchmark Morningstar
Russell/Nomura Small Cap TR JPY
MSCI Japan Small Cap NR JPY
Target Market
Role In Portfolio
Standalone / Core
No específico
Component
No específico
Otro
No específico
Primary Objective
Preservación
No específico
Crecim
Sí
Ingresos
No específico
Cobertura (hedging)
No específico
Otro
No específico
Qué posee el fondo  Parvest Equity Japan Small Cap Classic EUR Capitalisation
31/07/2018
Style Box® de Morningstar
Estilo de acciones
Colocación de activos
 
% largo
% corto
% patrimonio
Acciones
93,92
0,00
93,92
Obligaciones
0,00
0,00
0,00
Efectivo
22,41
16,33
6,08
Otro
0,00
0,00
0,00
| | |
| --- | --- |
| 5 regiones principales | % |
| Japón | 100,00 |
| Estados Unidos | 0,00 |
| Canadá | 0,00 |
| Iberoamérica | 0,00 |
| Reino Unido | 0,00 |
5 mayores sectores
%
Tecnología
29,57
Industria
21,92
Consumo Cíclico
14,81
Materiales Básicos
9,40
Consumo Defensivo
9,35