Cómo se ha comportado este fondo
30/11/2018
Crecimiento de 1.000 (EUR)
Gráfico Avanzado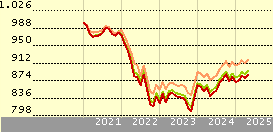 Fondo
-
0,6
2,4
1,2
-2,2
+/-Cat
-
1,7
0,5
0,0
1,0
+/-Ind
-
-0,1
-0,1
0,1
0,0
 
Benchmark de la Categoría: BBgBarc Global Aggregate TR...
Estadística Rápida
VL
12/12/2018
 
EUR 100,84
Cambio del día
 
-0,09%
Categoría Morningstar™
 
RF Global - EUR Cubierto
ISIN
 
IE00B18GC888
Patrimonio (Mil)
12/12/2018
 
USD 11280,43
Patrimonio Clase (Mil)
12/12/2018
 
EUR 604,72
Comisión Máx. Suscripción
 
-
Gastos Corrientes
15/02/2018
 
0,15%

*  Este informe y rating fueron emitidos para una clase diferente de este mismo fondo. La rentabilidad y la estructura de comisiones de este fondo puede variar de lo mencionado aquí.
Analyst Report
The global multisector nature of the Vanguard Bond Index GBP Hedged Fund is designed to make it work as the central--perhaps the only--developed fixed-income element in a portfolio. The fund tracks an index with returns hedged in GBP and so...
Haga clic aquí para leer el análisis
Pilares Morningstar
Personal
Positive
Firma Gestora
Positive
Proceso
Positive
Performance
Positive
Precio
Positive
Objetivo de inversión: Vanguard Global Bond Index Fund Institutional EUR Hedged Accumulation
The fund seeks to provide returns consistent with the performance of the Barclays Capital Global Aggregate Float Adjusted Bond Index (the "Index") by primarily investing in other funds of the Company (the "Underlying Funds"). It will primarily invest directly in the underlying bonds which the various Underlying Funds hold although the Fund will retain the ability to invest up to 10% of its net assets in collective investment schemes.
Returns
| | |
| --- | --- |
| Rentabilidades acumul. % | 12/12/2018 |
| Año | -1,67 |
| 3 años anualiz. | 0,45 |
| 5 años anualiz. | - |
| 10 años anualiz. | - |
| | | |
| --- | --- | --- |
| Rendimento a 12 meses |   | 0,00 |
Gestión
Nombre del gestor
Fecha Inicio
No Suministrado
31/03/2008
Creación del fondo
27/02/2014
Benchmark de la Categoría
Benchmark de fondos
Benchmark Morningstar
BBgBarc Global Agg Float Adj TR Hdg GBP
BBgBarc Global Aggregate TR Hdg EUR
Target Market
Role In Portfolio
Standalone / Core
No específico
Component
No específico
Otro
No específico
Primary Objective
Preservación
No
Crecim
Sí
Ingresos
No
Cobertura (hedging)
No
Otro
No específico
Qué posee el fondo  Vanguard Global Bond Index Fund Institutional EUR Hedged Accumulation
31/10/2018
Renta Fija
Vencimiento efectivo
8,77
Duración efectiva
6,81
Style Box® de Morningstar
Estilo de renta fija
Colocación de activos
 
% largo
% corto
% patrimonio
Acciones
0,00
0,00
0,00
Obligaciones
99,65
0,06
99,59
Efectivo
0,12
0,00
0,12
Otro
0,29
0,00
0,29