Cómo se ha comportado este fondo
31/07/2019
Crecimiento de 1.000 (EUR)
Gráfico Avanzado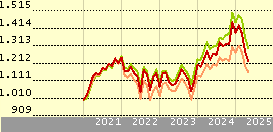 Fondo
10,7
15,9
7,5
-9,7
19,6
+/-Cat
-1,8
5,4
-2,8
1,9
1,0
+/-Ind
0,5
0,9
-1,2
0,3
1,1
 
Benchmark de la Categoría: MSCI ACWI Small NR USD
Estadística Rápida
VL
23/08/2019
 
EUR 216,38
Cambio del día
 
-1,75%
Categoría Morningstar™
 
RV Global Cap. Pequeña
ISIN
 
IE00B42W3S00
Patrimonio (Mil)
23/08/2019
 
USD 1895,18
Patrimonio Clase (Mil)
23/08/2019
 
EUR 44,08
Comisión Máx. Suscripción
 
-
Gastos Corrientes
21/03/2019
 
0,40%
Analyst Report
Vanguard Global Small Cap Index offers a cheap and highly efficient way to gain access to the global small-cap segment. We are confident in the ability of the portfolio management team to tackle the day-to-day issues such as liquidity and high...
Haga clic aquí para leer el análisis
Pilares Morningstar
Personal
Positive
Firma Gestora
Positive
Proceso
Neutral
Performance
Neutral
Precio
Positive
Objetivo de inversión: Vanguard Global Small-Cap Index Fund Investor EUR Accumulation
The Fund seeks to provide long term growth of capital by tracking the performance of the Morgan Stanley Capital International (MSCI) Small Cap World Index, a market capitalisation weighted index of small cap companies in developed countries. The Fund employs a "passive management" or indexing investment strategy designed to track the performance of the index by investing in all, or a representative sample, of the securities that make up the index, holding each stock approximate proportion to its weighting in the index.
Returns
| | |
| --- | --- |
| Rentabilidades acumul. % | 23/08/2019 |
| Año | 13,96 |
| 3 años anualiz. | 6,85 |
| 5 años anualiz. | 8,68 |
| 10 años anualiz. | - |
| | | |
| --- | --- | --- |
| Rendimento a 12 meses |   | 0,00 |
Gestión
Nombre del gestor
Fecha Inicio
No Suministrado
10/12/2009
Creación del fondo
27/02/2014
Benchmark de la Categoría
Benchmark de fondos
Benchmark Morningstar
MSCI World Small Cap NR USD
MSCI ACWI Small NR USD
Target Market
Role In Portfolio
Standalone / Core
No específico
Component
No específico
Otro
No específico
Primary Objective
Preservación
No
Crecim
Sí
Ingresos
No
Cobertura (hedging)
No específico
Otro
No específico
Qué posee el fondo  Vanguard Global Small-Cap Index Fund Investor EUR Accumulation
31/07/2019
Style Box® de Morningstar
Estilo de acciones
Colocación de activos
 
% largo
% corto
% patrimonio
Acciones
99,77
0,00
99,77
Obligaciones
0,00
0,00
0,00
Efectivo
0,00
0,00
0,00
Otro
0,23
0,00
0,23
| | |
| --- | --- |
| 5 regiones principales | % |
| Estados Unidos | 58,26 |
| Japón | 11,74 |
| Zona Euro | 8,49 |
| Reino Unido | 6,34 |
| Europe - ex Euro | 5,35 |
5 mayores sectores
%
Industria
16,01
Tecnología
14,99
Consumo Cíclico
13,46
Servicios Financieros
13,03
Inmobiliario
12,08