Cómo se ha comportado este fondo
31/10/2017
Crecimiento de 1.000 (EUR)
Gráfico Avanzado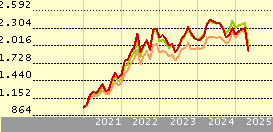 Fondo
18,1
-8,5
-19,9
30,7
-16,4
+/-Cat
9,6
1,3
-2,4
2,2
-5,8
+/-Ind
5,1
-9,2
-5,9
0,4
-5,9
 
Benchmark de la Categoría: MSCI World/Energy NR USD
Estadística Rápida
VL
16/11/2017
 
EUR 7,81
Cambio del día
 
0,01%
Categoría Morningstar™
 
RV Sector Energía
ISIN
 
IE00BGHQF524
Patrimonio (Mil)
16/11/2017
 
USD 260,68
Patrimonio Clase (Mil)
16/11/2017
 
EUR 8,18
Comisión Máx. Suscripción
 
5,00%
Gastos Corrientes
30/01/2017
 
1,99%

*  Este informe y rating fueron emitidos para una clase diferente de este mismo fondo. La rentabilidad y la estructura de comisiones de este fondo puede variar de lo mencionado aquí.
Analyst Report
In our view, this fund benefits from the outstanding team of Will Riley, Jonathan Waghorn, and highly experienced energy investor Tim Guinness, who has more than three decades of industry experience. Waghorn is the most recent addition to this...
Haga clic aquí para leer el análisis
Pilares Morningstar
Personal
Positive
Firma Gestora
Neutral
Proceso
Positive
Performance
Positive
Precio
Negative
Objetivo de inversión: Guinness Global Energy C EUR Accumulation
The investment objective of the Fund is to provide investors with long-term capital appreciation. In seeking to achieve its investment objective the Fund intends to invest at least 80% of its net assets in equity securities of globally based companies principally engaged in the production, exploration or discovery, or distribution of energy derived from fossil fuels and the research and development or production of alternative energy sources.
Returns
| | |
| --- | --- |
| Rentabilidades acumul. % | 16/11/2017 |
| Año | -18,31 |
| 3 años anualiz. | -8,51 |
| 5 años anualiz.* | -0,86 |
| 10 años anualiz.* | - |
| | | |
| --- | --- | --- |
| Rendimento a 12 meses |   | 0,00 |
Gestión
Nombre del gestor
Fecha Inicio
Timothy Guinness
31/03/2008
Jonathan Waghorn
09/09/2013
Click here to see others
Creación del fondo
29/11/2013
Benchmark de la Categoría
Benchmark de fondos
Benchmark Morningstar
MSCI World/Energy NR USD
MSCI World/Energy NR USD
Qué posee el fondo  Guinness Global Energy C EUR Accumulation
31/10/2017
Style Box® de Morningstar
Estilo de acciones
Colocación de activos
 
% largo
% corto
% patrimonio
Acciones
98,39
0,00
98,39
Obligaciones
0,00
0,00
0,00
Efectivo
1,61
0,00
1,61
Otro
0,00
0,00
0,00
| | |
| --- | --- |
| 5 regiones principales | % |
| Estados Unidos | 47,55 |
| Canadá | 14,59 |
| Reino Unido | 11,37 |
| Zona Euro | 10,81 |
| Asia - Emergente | 8,38 |
5 mayores sectores
%
Energía
98,19
Tecnología
1,42
Servicios Financieros
0,39