Cómo se ha comportado este fondo
31/12/2018
Crecimiento de 1.000 (EUR)
Gráfico Avanzado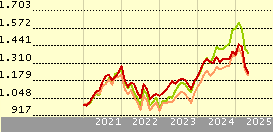 Fondo
31,6
22,3
9,4
17,7
0,9
+/-Cat
16,4
13,4
2,8
9,5
8,7
+/-Ind
12,1
11,8
-1,3
10,2
5,0
 
Benchmark de la Categoría: MSCI World NR USD
Estadística Rápida
VL
18/01/2019
 
EUR 33,45
Cambio del día
 
1,16%
Categoría Morningstar™
 
RV Global Cap. Grande Blend
ISIN
 
LU0690375182
Patrimonio (Mil)
-
 
-
Patrimonio Clase (Mil)
17/01/2019
 
EUR 187,03
Comisión Máx. Suscripción
 
-
Gastos Corrientes
31/01/2018
 
1,20%

*  Este informe y rating fueron emitidos para una clase diferente de este mismo fondo. La rentabilidad y la estructura de comisiones de este fondo puede variar de lo mencionado aquí.
Analyst Report
This offshore feeder fund invests directly into the Morningstar Analyst Gold-rated UK-domiciled Fundsmith Equity fund. Terry Smith co-founded Fundsmith LLP and launched Fundsmith Equity in 2010 on the back of the success he achieved as investment...
Haga clic aquí para leer el análisis
Pilares Morningstar
Personal
Positive
Firma Gestora
Positive
Proceso
Positive
Performance
Positive
Precio
Negative
Objetivo de inversión: Fundsmith Equity Fund Feeder T EUR Acc
The SICAV is a feeder UCITS (as defined in the UCI Law) of Fundsmith Equity Fund which qualifies as a master UCITS (as defined in the UCI Law). In compliance with the relevant provisions of the UCI Law, the SICAV will at all times invest at least 85% of its assets in shares of the Master Fund. The SICAV may hold up to 15% of its assets in ancillary liquid assets, including cash, cash equivalents and short term bank deposits in accordance with the provisions of Article 41 (2) of the UCI Law.
Returns
| | |
| --- | --- |
| Rentabilidades acumul. % | 18/01/2019 |
| Año | 4,97 |
| 3 años anualiz. | 13,90 |
| 5 años anualiz. | 16,91 |
| 10 años anualiz. | - |
| | | |
| --- | --- | --- |
| Rendimento a 12 meses |   | 0,00 |
Gestión
Nombre del gestor
Fecha Inicio
Terry Smith
02/11/2011
Creación del fondo
02/11/2011
Benchmark de la Categoría
Benchmark de fondos
Benchmark Morningstar
MSCI World NR EUR
MSCI World NR USD
Target Market
Role In Portfolio
Standalone / Core
No específico
Component
No específico
Otro
No específico
Primary Objective
Preservación
No
Crecim
Sí
Ingresos
No específico
Cobertura (hedging)
No específico
Otro
No específico
Qué posee el fondo  Fundsmith Equity Fund Feeder T EUR Acc
30/09/2018
Style Box® de Morningstar
Estilo de acciones
Colocación de activos
 
% largo
% corto
% patrimonio
Acciones
98,33
0,00
98,33
Obligaciones
0,00
0,00
0,00
Efectivo
1,67
0,00
1,67
Otro
0,00
0,00
0,00
| | |
| --- | --- |
| 5 regiones principales | % |
| Estados Unidos | 64,64 |
| Reino Unido | 18,46 |
| Zona Euro | 11,43 |
| Europe - ex Euro | 5,47 |
| Canadá | 0,00 |
5 mayores sectores
%
Consumo Defensivo
25,72
Salud
25,71
Tecnología
23,01
Industria
12,43
Servicios Financieros
9,62