Janus Henderson United Kingdom Absolute Return Fund R€ Acc (hedged)
Cómo se ha comportado este fondo
31/03/2019
Crecimiento de 1.000 (EUR)
Gráfico Avanzado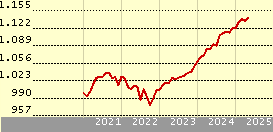 Fondo
6,3
0,3
2,1
-4,3
1,6
+/-Cat
-
-
-
-
-
+/-Ind
-
-
-
-
-
 
Benchmark de la Categoría: -
Estadística Rápida
VL
17/04/2019
 
EUR 6,87
Cambio del día
 
-0,08%
Categoría Morningstar™
 
Alt - Long/Short RV RU
ISIN
 
LU0490786174
Patrimonio (Mil)
17/04/2019
 
GBP 2918,38
Patrimonio Clase (Mil)
17/04/2019
 
EUR 620,74
Comisión Máx. Suscripción
 
0,50%
Gastos Corrientes
12/02/2019
 
1,63%
Analyst Report
Janus Henderson UK Absolute Return EUR Hdg's experienced management duo and disciplined investment approach continue to make it a worthy long-biased choice in the absolute return space. It retains its Morningstar Analyst rating of Bronze.This...
Haga clic aquí para leer el análisis
Pilares Morningstar
Personal
Positive
Firma Gestora
Neutral
Proceso
Positive
Performance
Positive
Precio
Neutral
Objetivo de inversión: Janus Henderson United Kingdom Absolute Return Fund R€ Acc (hedged)
El Subfondo trata de alcanzar una rentabilidad a largo plazo superior a la que a largo plazo se obtiene normalmente en los mercados de renta variable del Reino Unido, invirtiendo en: empresas domiciliadas en el Reino Unido, empresas no domiciliadas en el Reino Unido pero que (i) realicen una parte predominante de su actividad mercantil en el Reino Unido, o (ii) sean sociedades de cartera que posean de forma predominante empresas domiciliadas en el Reino Unido. La rentabilidad será una combinación de plusvalías y rendimientos.
Returns
| | |
| --- | --- |
| Rentabilidades acumul. % | 17/04/2019 |
| Año | 1,68 |
| 3 años anualiz. | -0,03 |
| 5 años anualiz. | 1,96 |
| 10 años anualiz. | - |
| | | |
| --- | --- | --- |
| Rendimento a 12 meses |   | 0,00 |
Gestión
Nombre del gestor
Fecha Inicio
Luke Newman
31/03/2010
Benjamin Wallace
31/03/2010
Creación del fondo
01/06/2010
Benchmark de la Categoría
Benchmark de fondos
Benchmark Morningstar
Sin benchmark
-
Target Market
Role In Portfolio
Standalone / Core
No específico
Component
No específico
Otro
No específico
Primary Objective
Preservación
No específico
Crecim
Sí
Ingresos
No específico
Cobertura (hedging)
No específico
Otro
No específico
Qué posee el fondo  Janus Henderson United Kingdom Absolute Return Fund R€ Acc (hedged)
31/12/2018
Style Box® de Morningstar
Estilo de acciones
Style Box® de Morningstar
Estilo de renta fija

Colocación de activos
 
% largo
% corto
% patrimonio
Acciones
42,08
26,79
15,30
Obligaciones
14,75
0,00
14,75
Efectivo
117,20
47,75
69,45
Otro
0,51
0,02
0,50
Renta Fija
Vencimiento efectivo
-
Duración efectiva
-

5 regiones principales
%
No hay datos disponibles
5 mayores sectores
%
No hay datos disponibles