Cómo se ha comportado este fondo
30/06/2016
Crecimiento de 1.000 (EUR)
Gráfico Avanzado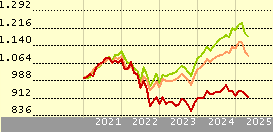 Fondo
6,6
0,6
5,4
-5,6
8,4
+/-Cat
-2,0
-5,9
-1,4
-8,1
9,6
+/-Ind
-6,6
-9,8
-9,8
-11,2
6,3
 
Benchmark de la Categoría: Cat 50%Barclays EurAgg TR&5...
Estadística Rápida
VL
22/07/2016
 
EUR 15,48
Cambio del día
 
0,26%
Categoría Morningstar™
 
Mixtos Moderados EUR - Global
ISIN
 
LU0432616901
Patrimonio (Mil)
30/06/2016
 
USD 2667,68
Patrimonio Clase (Mil)
22/07/2016
 
EUR 410,07
Comisión Máx. Suscripción
 
3,00%
Gastos Corrientes
28/04/2016
 
2,12%

*  Este informe y rating fueron emitidos para una clase diferente de este mismo fondo. La rentabilidad y la estructura de comisiones de este fondo puede variar de lo mencionado aquí.
Analyst Report
The fund employs a risk parity approach, providing investors with roughly equal exposure (on a risk basis) to three broad asset classes--stocks, bonds, and commodities.

The investment team is led by Scott Wolle, Invesco's CIO of global asset...
Haga clic aquí para leer el análisis
Pilares Morningstar
Personal
Neutral
Firma Gestora
Positive
Proceso
Neutral
Performance
Neutral
Precio
Positive
Objetivo de inversión: Invesco Funds - Invesco Balanced-Risk Allocation Fund E
El objetivo del fondo es proporcionar una rentabilidad moderada con respecto a los tradicionales índices de los mercados financieros, mediante la exposición a tres clases de activos: valores de renta fija, renta variable y materias primas.
Returns
| | |
| --- | --- |
| Rentabilidades acumul. % | 22/07/2016 |
| Año | 10,18 |
| 3 años anualiz. | 3,14 |
| 5 años anualiz. | 4,32 |
| 10 años anualiz. | - |
| | | |
| --- | --- | --- |
| Rendimento a 12 meses |   | 0,00 |
Gestión
Nombre del gestor
Fecha Inicio
Scott Wolle
01/09/2009
Creación del fondo
01/09/2009
Benchmark de la Categoría
Benchmark de fondos
Benchmark Morningstar
60% MSCI World 100% Hdg NR EUR ,  40% JPM GBI Global European TR EUR
Cat 50%Barclays EurAgg TR&50%FTSE Wld TR
Qué posee el fondo  Invesco Funds - Invesco Balanced-Risk Allocation Fund E
30/06/2016
Style Box® de Morningstar
Estilo de acciones
Style Box® de Morningstar
Estilo de renta fija

Colocación de activos
 
% largo
% corto
% patrimonio
Acciones
54,53
0,00
54,53
Obligaciones
79,19
0,00
79,19
Efectivo
101,92
158,63
-56,71
Otro
22,98
0,00
22,98
Renta Fija
Vencimiento efectivo
-
Duración efectiva
-

5 regiones principales
%
No hay datos disponibles
5 mayores sectores
%
No hay datos disponibles