Cómo se ha comportado este fondo
30/04/2017
Crecimiento de 1.000 (EUR)
Gráfico Avanzado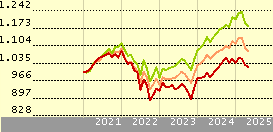 Fondo
8,1
6,0
-0,9
5,3
2,8
+/-Cat
1,5
-0,8
-3,4
2,2
0,0
+/-Ind
-2,4
-9,2
-6,6
-2,4
0,4
 
Benchmark de la Categoría: Cat 50%Barclays EurAgg TR&5...
Estadística Rápida
VL
25/05/2017
 
EUR 125,96
Cambio del día
 
0,14%
Categoría Morningstar™
 
Mixtos Moderados EUR - Global
ISIN
 
LU0404220724
Patrimonio (Mil)
25/05/2017
 
EUR 19567,20
Patrimonio Clase (Mil)
25/05/2017
 
EUR 3242,74
Comisión Máx. Suscripción
 
5,00%
Gastos Corrientes
01/01/2017
 
1,76%

*  Este informe y rating fueron emitidos para una clase diferente de este mismo fondo. La rentabilidad y la estructura de comisiones de este fondo puede variar de lo mencionado aquí.
Analyst Report
JPMorgan Global Income EUR is a good choice for investors seeking income from a multi-asset portfolio. Launched in November 2008 this Luxembourg domiciled SICAV is managed off the same multi-asset income strategy as the US-based JPMorgan Income...
Haga clic aquí para leer el análisis
Pilares Morningstar
Personal
Positive
Firma Gestora
Positive
Proceso
Positive
Performance
Positive
Precio
Positive
Objetivo de inversión: JPMorgan Investment Funds - Global Income Fund D (div) - EUR
El fondo tiene como objetivo proporcionar ingresos regulares mediante una cartera a nivel mundial que invierte en instrumentos financieros derivados.
Returns
| | |
| --- | --- |
| Rentabilidades acumul. % | 25/05/2017 |
| Año | 3,74 |
| 3 años anualiz. | 3,20 |
| 5 años anualiz. | 6,42 |
| 10 años anualiz. | - |
| | | |
| --- | --- | --- |
| Rendimento a 12 meses |   | 5,02 |
| Frecuencia de pago de dividendos |   | Quarterly |
Gestión
Nombre del gestor
Fecha Inicio
Talib Sheikh
10/10/2010
Michael Schoenhaut
11/12/2008
Creación del fondo
08/07/2009
Benchmark de la Categoría
Benchmark de fondos
Benchmark Morningstar
35% MSCI World 100% Hdg NR EUR ,  40% BBgBarc US HY 2% Issuer Cap TR Hdg EUR ,  25% BBgBarc Global Credit TR Hdg USD
Cat 50%Barclays EurAgg TR&50%FTSE Wld TR
Qué posee el fondo  JPMorgan Investment Funds - Global Income Fund D (div) - EUR
30/04/2017
Style Box® de Morningstar
Estilo de acciones
Style Box® de Morningstar
Estilo de renta fija

Colocación de activos
 
% largo
% corto
% patrimonio
Acciones
40,94
0,00
40,94
Obligaciones
50,17
9,65
40,51
Efectivo
109,11
93,34
15,77
Otro
2,78
0,00
2,78
Renta Fija
Vencimiento efectivo
7,12
Duración efectiva
3,98

| | |
| --- | --- |
| 5 regiones principales | % |
| Estados Unidos | 35,19 |
| Zona Euro | 21,28 |
| Reino Unido | 17,58 |
| Europe - ex Euro | 5,62 |
| Asia - Desarrollada | 4,68 |
5 mayores sectores
%
Servicios Financieros
21,75
Inmobiliario
17,02
Consumo Cíclico
9,68
Tecnología
8,64
Consumo Defensivo
7,97