Cómo se ha comportado este fondo
31/10/2018
Crecimiento de 1.000 (EUR)
Gráfico Avanzado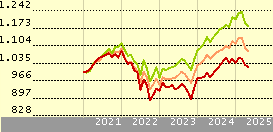 Fondo
6,0
-0,9
5,3
6,2
-4,7
+/-Cat
-0,8
-3,4
2,2
1,7
-0,8
+/-Ind
-9,2
-6,6
-2,4
1,4
-6,0
 
Benchmark de la Categoría: Cat 50%Barclays EurAgg TR&5...
Estadística Rápida
VL
16/11/2018
 
EUR 114,17
Cambio del día
 
0,02%
Categoría Morningstar™
 
Mixtos Moderados EUR - Global
ISIN
 
LU0404220724
Patrimonio (Mil)
16/11/2018
 
EUR 25109,26
Patrimonio Clase (Mil)
16/11/2018
 
EUR 3700,02
Comisión Máx. Suscripción
 
5,00%
Gastos Corrientes
01/01/2018
 
1,77%

*  Este informe y rating fueron emitidos para una clase diferente de este mismo fondo. La rentabilidad y la estructura de comisiones de este fondo puede variar de lo mencionado aquí.
Analyst Report
Investors in JPM Global Income remain in good hands. An experienced asset-allocation group and low fees make this an attractive multi-asset income option and support its Morningstar Analyst Rating of Bronze.The fund is managed off the same...
Haga clic aquí para leer el análisis
Pilares Morningstar
Personal
Positive
Firma Gestora
Positive
Proceso
Positive
Performance
Positive
Precio
Positive
Objetivo de inversión: JPMorgan Investment Funds - Global Income Fund D (div) - EUR
El fondo tiene como objetivo proporcionar ingresos regulares mediante una cartera a nivel mundial que invierte en instrumentos financieros derivados.
Returns
| | |
| --- | --- |
| Rentabilidades acumul. % | 16/11/2018 |
| Año | -4,97 |
| 3 años anualiz. | 1,92 |
| 5 años anualiz. | 2,31 |
| 10 años anualiz. | - |
| | | |
| --- | --- | --- |
| Rendimento a 12 meses |   | 5,03 |
| Frecuencia de pago de dividendos |   | Quarterly |
Gestión
Nombre del gestor
Fecha Inicio
Michael Schoenhaut
11/12/2008
Eric Bernbaum
08/06/2017
Creación del fondo
08/07/2009
Benchmark de la Categoría
Benchmark de fondos
Benchmark Morningstar
35% MSCI World 100% Hdg NR EUR ,  40% BBgBarc US HY 2% Issuer Cap TR Hdg EUR ,  25% BBgBarc Global Credit TR Hdg USD
Cat 50%Barclays EurAgg TR&50%FTSE Wld TR
Target Market
Role In Portfolio
Standalone / Core
No específico
Component
No específico
Otro
No específico
Primary Objective
Preservación
No
Crecim
No específico
Ingresos
Sí
Cobertura (hedging)
No específico
Otro
No específico
Qué posee el fondo  JPMorgan Investment Funds - Global Income Fund D (div) - EUR
30/09/2018
Style Box® de Morningstar
Estilo de acciones
Style Box® de Morningstar
Estilo de renta fija

Colocación de activos
 
% largo
% corto
% patrimonio
Acciones
36,22
0,08
36,14
Obligaciones
55,37
0,14
55,23
Efectivo
5,28
1,01
4,27
Otro
4,36
0,00
4,36
Renta Fija
Vencimiento efectivo
-
Duración efectiva
-

| | |
| --- | --- |
| 5 regiones principales | % |
| Estados Unidos | 33,89 |
| Zona Euro | 22,00 |
| Reino Unido | 9,78 |
| Europe - ex Euro | 8,86 |
| Asia - Desarrollada | 7,27 |
5 mayores sectores
%
Servicios Financieros
17,46
Inmobiliario
17,17
Salud
10,88
Consumo Defensivo
10,51
Energía
7,14