Cómo se ha comportado este fondo
31/12/2018
Crecimiento de 1.000 (EUR)
Gráfico Avanzado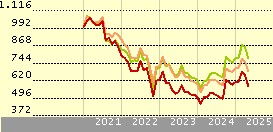 Fondo
7,8
15,4
-8,4
28,3
-25,1
+/-Cat
-14,4
9,4
-9,0
1,9
-9,2
+/-Ind
-15,2
12,7
-12,3
-7,0
-10,3
 
Benchmark de la Categoría: MSCI China NR USD
Estadística Rápida
VL
17/01/2019
 
USD 22,39
Cambio del día
 
-0,23%
Categoría Morningstar™
 
RV China
ISIN
 
IE00B1W3WR42
Patrimonio (Mil)
17/01/2019
 
USD 439,29
Patrimonio Clase (Mil)
17/01/2019
 
USD 268,33
Comisión Máx. Suscripción
 
-
Gastos Corrientes
28/03/2018
 
1,56%

*  Este informe y rating fueron emitidos para una clase diferente de este mismo fondo. La rentabilidad y la estructura de comisiones de este fondo puede variar de lo mencionado aquí.
Analyst Report
GAM Star China Equity remains one of the most attractive investment propositions in the category in our opinion, but it is not for the risk-averse. The key appeal here is portfolio manager Michael Lai, who has managed the fund since its launch in...
Haga clic aquí para leer el análisis
Pilares Morningstar
Personal
Positive
Firma Gestora
Neutral
Proceso
Positive
Performance
Positive
Precio
Neutral
Objetivo de inversión: GAM Star Fund plc - GAM Star China Equity Class USD Accumulation
Apreciación del capital. Centrada en cartera de valores de las sociedades con activos, o los ingresos derivados de China y Hong Kong. Un aspecto fundamental de stock-picker con un enfoque macro.
Returns
| | |
| --- | --- |
| Rentabilidades acumul. % | 17/01/2019 |
| Año | 6,30 |
| 3 años anualiz. | 3,74 |
| 5 años anualiz. | 2,21 |
| 10 años anualiz. | 12,81 |
| | | |
| --- | --- | --- |
| Rendimento a 12 meses |   | 0,00 |
Gestión
Nombre del gestor
Fecha Inicio
Michael Lai
02/07/2007
Creación del fondo
09/07/2007
Benchmark de la Categoría
Benchmark de fondos
Benchmark Morningstar
MSCI China NR USD
MSCI China NR USD
Target Market
Role In Portfolio
Standalone / Core
No específico
Component
No específico
Otro
No específico
Primary Objective
Preservación
No
Crecim
Sí
Ingresos
No específico
Cobertura (hedging)
No específico
Otro
No específico
Qué posee el fondo  GAM Star Fund plc - GAM Star China Equity Class USD Accumulation
30/06/2018
Style Box® de Morningstar
Estilo de acciones
Colocación de activos
 
% largo
% corto
% patrimonio
Acciones
96,63
0,00
96,63
Obligaciones
0,00
0,00
0,00
Efectivo
2,37
1,67
0,71
Otro
2,66
0,00
2,66
| | |
| --- | --- |
| 5 regiones principales | % |
| Asia - Emergente | 80,64 |
| Asia - Desarrollada | 14,98 |
| Zona Euro | 3,17 |
| Estados Unidos | 1,20 |
| Iberoamérica | 0,02 |
5 mayores sectores
%
Consumo Cíclico
30,06
Tecnología
24,98
Servicios Financieros
12,41
Materiales Básicos
9,38
Inmobiliario
8,71