Cómo se ha comportado este fondo
31/12/2018
Crecimiento de 1.000 (EUR)
Gráfico Avanzado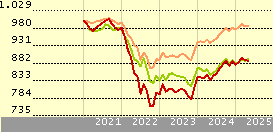 Fondo
2,9
-1,8
9,3
5,3
-4,9
+/-Cat
0,0
-0,7
5,0
2,6
-0,7
+/-Ind
-4,7
-2,5
6,8
4,3
-3,8
 
Benchmark de la Categoría: BBgBarc Global Aggregate TR...
Estadística Rápida
VL
18/01/2019
 
EUR 14,89
Cambio del día
 
0,20%
Categoría Morningstar™
 
RF Flexible Global-EUR Cubierto
ISIN
 
IE00B1Z6D669
Patrimonio (Mil)
31/12/2018
 
USD 6820,13
Patrimonio Clase (Mil)
31/12/2018
 
EUR 734,81
Comisión Máx. Suscripción
 
5,00%
Gastos Corrientes
12/02/2018
 
1,59%

*  Este informe y rating fueron emitidos para una clase diferente de este mismo fondo. La rentabilidad y la estructura de comisiones de este fondo puede variar de lo mencionado aquí.
Analyst Report
This fund is designed to deliver PIMCO's best ideas for global credit exposure using the firm's strong management resources, research, and process. Taken together, those features support the fund's Morningstar Analyst Rating of Silver. PIMCO...
Haga clic aquí para leer el análisis
Pilares Morningstar
Personal
Positive
Firma Gestora
Positive
Proceso
Positive
Performance
Positive
Precio
Negative
Objetivo de inversión: PIMCO GIS Diversified Income Fund E Class EUR (Hedged) Accumulation
El fondo busca maximizar la rentabilidad total en consonancia con la gestión prudente de las inversiones. Podrá invertir a través de un grupo diversificado de empresas en valores de renta fija con distintos vencimientos, en instrumentos derivados, como opciones, futuros contratos o acuerdos de intercambio, o en hipotecas o títulos respaldados por activos. Podrá prestar su cartera de valores a agentes, corredores y otras instituciones financieras para obtener ingresos.
Returns
| | |
| --- | --- |
| Rentabilidades acumul. % | 18/01/2019 |
| Año | 1,78 |
| 3 años anualiz. | 4,18 |
| 5 años anualiz. | 2,16 |
| 10 años anualiz. | 6,26 |
| | | |
| --- | --- | --- |
| Rendimento a 12 meses |   | 0,00 |
Gestión
Nombre del gestor
Fecha Inicio
Eve Tournier
30/04/2010
Alfred Murata
27/05/2016
Click here to see others
Creación del fondo
03/07/2007
Benchmark de la Categoría
Benchmark de fondos
Benchmark Morningstar
33.33% ICE BofAML BB-B Rtd DM HY Ctd TR HUSD ,  33.33% BBgBarc Gbl Agg Credit ex EM USD Hdg ,  33.34% JPM EMBI Global Hedged TR USD
BBgBarc Global Aggregate TR Hdg EUR
Target Market
Role In Portfolio
Standalone / Core
No específico
Component
No específico
Otro
No específico
Primary Objective
Preservación
Sí
Crecim
Sí
Ingresos
Sí
Cobertura (hedging)
No
Otro
No específico
Qué posee el fondo  PIMCO GIS Diversified Income Fund E Class EUR (Hedged) Accumulation
30/09/2018
Renta Fija
Vencimiento efectivo
9,60
Duración efectiva
4,90
Style Box® de Morningstar
Estilo de renta fija
Colocación de activos
 
% largo
% corto
% patrimonio
Acciones
0,14
0,00
0,14
Obligaciones
169,50
9,53
159,97
Efectivo
65,43
129,76
-64,33
Otro
4,22
0,00
4,22