Comgest Growth GEM Promising Companies EUR Z Acc
Cómo se ha comportado este fondo
30/09/2019
Crecimiento de 1.000 (EUR)
Gráfico Avanzado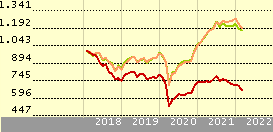 Fondo
1,7
7,1
-
-
3,2
+/-Cat
1,9
-3,1
-
-
-7,1
+/-Ind
1,5
0,4
-
-
-3,8
 
Benchmark de la Categoría: MSCI Emerging Markets SMID ...
Estadística Rápida
VL
11/10/2019
 
EUR 12,79
Cambio del día
 
0,63%
Categoría Morningstar™
 
RV Global Emergente Cap. Peq/Med
ISIN
 
IE00BZ0X9V70
Patrimonio (Mil)
11/10/2019
 
EUR 112,44
Patrimonio Clase (Mil)
11/10/2019
 
EUR 0,53
Comisión Máx. Suscripción
 
-
Gastos Corrientes
19/02/2019
 
1,40%

*  Este informe y rating fueron emitidos para una clase diferente de este mismo fondo. La rentabilidad y la estructura de comisiones de este fondo puede variar de lo mencionado aquí.
Objetivo de inversión: Comgest Growth GEM Promising Companies EUR Z Acc
The investment objective of the Fund is to achieve capital appreciation by creating a professionally managed portfolio consisting primarily of what, in the opinion of the Investment Manager, are high quality long-term growth promising companies based or operating in Global Emerging Markets. Promising companies are companies that, in the opinion of the Investment Manager are (i) seeking to rapidly gain market share and accordingly grow in size and (ii) delivery fast earnings growth. Promising companies usually have shorter track records and higher capital requirements than more mature and established companies. As a result, promising companies normally have a higher risk profile. The Investment Manager will seek to reduce this higher risk profile through diversification and a greater number of holdings.
Returns
| | |
| --- | --- |
| Rentabilidades acumul. % | 11/10/2019 |
| Año | 3,40 |
| 3 años anualiz.* | -4,56 |
| 5 años anualiz.* | 0,04 |
| 10 años anualiz.* | 4,71 |
| | | |
| --- | --- | --- |
| Rendimento a 12 meses |   | 0,00 |
Gestión
Nombre del gestor
Fecha Inicio
Galina Besedina
01/01/2013
Juliette Alves
01/01/2016
Click here to see others
Creación del fondo
18/09/2017
Benchmark de la Categoría
Benchmark de fondos
Benchmark Morningstar
MSCI EM SMID NR USD
MSCI Emerging Markets SMID NR USD
Target Market
Role In Portfolio
Standalone / Core
No específico
Component
No específico
Otro
No específico
Primary Objective
Preservación
No
Crecim
Sí
Ingresos
No
Cobertura (hedging)
No específico
Otro
No específico
Qué posee el fondo  Comgest Growth GEM Promising Companies EUR Z Acc
30/06/2019
Style Box® de Morningstar
Estilo de acciones
Colocación de activos
 
% largo
% corto
% patrimonio
Acciones
93,51
0,00
93,51
Obligaciones
0,00
0,00
0,00
Efectivo
4,33
0,00
4,33
Otro
2,16
0,00
2,16
| | |
| --- | --- |
| 5 regiones principales | % |
| Asia - Emergente | 34,15 |
| Iberoamérica | 32,39 |
| África | 14,85 |
| Asia - Desarrollada | 7,44 |
| Estados Unidos | 4,13 |
5 mayores sectores
%
Tecnología
19,33
Consumo Cíclico
17,88
Consumo Defensivo
17,70
Salud
14,36
Servicios Financieros
13,96