BlackRock Strategic Funds - Managed Index Portfolios Defensive D2 CHF Hedged
Cómo se ha comportado este fondo
30/11/2019
Crecimiento de 1.000 (EUR)
Gráfico Avanzado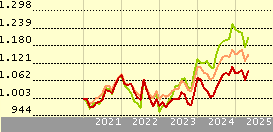 Fondo
-
4,6
-5,6
-0,6
12,5
+/-Cat
-
1,8
-1,3
0,6
2,1
+/-Ind
-
0,8
-0,5
-2,9
3,8
 
Benchmark de la Categoría: Cat 75%Citi SwissGBI&25%MSC...
Estadística Rápida
VL
13/12/2019
 
CHF 107,09
Cambio del día
 
0,37%
Categoría Morningstar™
 
Mixtos Defensivos CHF
ISIN
 
LU1191062816
Patrimonio (Mil)
13/12/2019
 
EUR 181,95
Patrimonio Clase (Mil)
13/12/2019
 
CHF 1,35
Comisión Máx. Suscripción
 
5,00%
Gastos Corrientes
20/09/2019
 
0,51%
Objetivo de inversión: BlackRock Strategic Funds - Managed Index Portfolios Defensive D2 CHF Hedged
The Fund aims to deliver a total return, which is a combination of capital growth and income, commensurate with a moderate level of risk. The Fund will seek to achieve its investment objective by obtaining indirect exposure to equity and equity-related securities, fixed income and fixed income-related securities, alternative assets, cash and nearcash instruments. Exposure to these asset classes will be achieved through investments in units of undertakings for collective investment, including but not limited to Exchange Traded Funds and other Index Funds managed by an affiliate of the BlackRock Group and, when determined appropriate, the Fund may invest directly in derivatives, cash and near-cash instruments.
Returns
| | |
| --- | --- |
| Rentabilidades acumul. % | 13/12/2019 |
| Año | 13,50 |
| 3 años anualiz. | 2,40 |
| 5 años anualiz. | - |
| 10 años anualiz. | - |
| | | |
| --- | --- | --- |
| Rendimento a 12 meses |   | 0,00 |
Gestión
Nombre del gestor
Fecha Inicio
Stephen Walker
10/04/2015
Christopher Downing
10/04/2015
Click here to see others
Creación del fondo
10/04/2015
Benchmark de la Categoría
Benchmark de fondos
Benchmark Morningstar
10% MSCI ACWI NR EUR ,  90% BBgBarc Global Aggregate TR Hdg EUR
Cat 75%Citi SwissGBI&25%MSCI Wld Free NR
Target Market
Role In Portfolio
Standalone / Core
No específico
Component
No específico
Otro
No específico
Primary Objective
Preservación
No específico
Crecim
Sí
Ingresos
Sí
Cobertura (hedging)
No específico
Otro
No específico
Qué posee el fondo  BlackRock Strategic Funds - Managed Index Portfolios Defensive D2 CHF Hedged
31/10/2019
Style Box® de Morningstar
Estilo de acciones
Style Box® de Morningstar
Estilo de renta fija

Colocación de activos
 
% largo
% corto
% patrimonio
Acciones
19,29
0,00
19,29
Obligaciones
74,64
0,00
74,64
Efectivo
4,61
1,70
2,91
Otro
3,16
0,00
3,16
Renta Fija
Vencimiento efectivo
2,06
Duración efectiva
5,30

| | |
| --- | --- |
| 5 regiones principales | % |
| Estados Unidos | 57,10 |
| Japón | 12,22 |
| Zona Euro | 7,45 |
| Europe - ex Euro | 6,17 |
| Canadá | 5,77 |
5 mayores sectores
%
Servicios Financieros
18,48
Tecnología
14,14
Salud
12,15
Industria
11,70
Consumo Cíclico
10,15