Cómo se ha comportado este fondo
30/06/2019
Crecimiento de 1.000 (EUR)
Gráfico Avanzado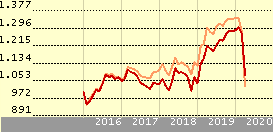 Fondo
3,4
5,2
-1,1
0,1
17,0
+/-Cat
-2,2
-0,8
-6,7
-1,4
0,8
+/-Ind
0,1
-4,1
-3,1
-3,4
1,2
 
Benchmark de la Categoría: FTSE EPRA Nareit Developed ...
Estadística Rápida
VL
16/07/2019
 
USD 178,84
Cambio del día
 
0,16%
Categoría Morningstar™
 
Inmobiliario - Indirecto Asia
ISIN
 
LU0269905997
Patrimonio (Mil)
16/07/2019
 
USD 19,61
Patrimonio Clase (Mil)
16/07/2019
 
USD 8,70
Comisión Máx. Suscripción
 
-
Gastos Corrientes
19/02/2019
 
1,94%
Analyst Report
Schroder ISF Asia Pacific Cities Real Estate has a distinctive process but doesn't stand out at other aspects. We initiate coverage on the fund with a Morningstar Analyst Rating of Neutral.London-based Tom Walker and Hugo Machin are the key...
Haga clic aquí para leer el análisis
Pilares Morningstar
Personal
Neutral
Firma Gestora
Positive
Proceso
Positive
Performance
Neutral
Precio
Negative
Objetivo de inversión: Schroder International Selection Fund Asia Pacific Cities Real Estate A Accumulation USD
Proporcionar rendimientos totales, principalmente a través de la inversión en valores de renta variable y de renta fija de empresas inmobiliarias de Asia y del Pacífico, incluidos Japón y Australasia.
Returns
| | |
| --- | --- |
| Rentabilidades acumul. % | 16/07/2019 |
| Año | 21,45 |
| 3 años anualiz. | 5,83 |
| 5 años anualiz. | 6,31 |
| 10 años anualiz. | 9,82 |
| | | |
| --- | --- | --- |
| Rendimento a 12 meses |   | 0,00 |
Gestión
Nombre del gestor
Fecha Inicio
Hugo Machin
01/10/2015
Tom Walker
01/10/2015
Creación del fondo
27/10/2006
Benchmark de la Categoría
Benchmark de fondos
Benchmark Morningstar
FTSE EPRA Nareit Developed Asia NR USD
FTSE EPRA Nareit Developed Asia TR USD
Target Market
Role In Portfolio
Standalone / Core
No específico
Component
No específico
Otro
No específico
Primary Objective
Preservación
No específico
Crecim
Sí
Ingresos
Sí
Cobertura (hedging)
No específico
Otro
No específico
Qué posee el fondo  Schroder International Selection Fund Asia Pacific Cities Real Estate A Accumulation USD
30/06/2019
Style Box® de Morningstar
Estilo de acciones
Colocación de activos
 
% largo
% corto
% patrimonio
Acciones
98,27
0,00
98,27
Obligaciones
0,00
0,00
0,00
Efectivo
1,73
0,00
1,73
Otro
0,00
0,00
0,00
| | |
| --- | --- |
| 5 regiones principales | % |
| Asia - Desarrollada | 30,26 |
| Japón | 29,16 |
| Australasia | 23,56 |
| Asia - Emergente | 13,86 |
| Reino Unido | 3,16 |
5 mayores sectores
%
Inmobiliario
82,38
Industria
8,69
Tecnología
5,98
Consumo Cíclico
2,95