Cómo se ha comportado este fondo
31/01/2018
Crecimiento de 1.000 (EUR)
Gráfico Avanzado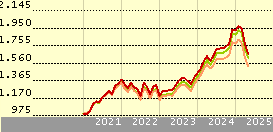 Fondo
28,5
12,2
14,5
6,3
1,9
+/-Cat
2,4
2,7
1,7
0,8
0,4
+/-Ind
-0,4
-0,2
-0,9
-0,6
0,2
 
Benchmark de la Categoría: Russell 1000 TR USD
Estadística Rápida
VL
23/02/2018
 
EUR 24,98
Cambio del día
 
1,80%
Categoría Morningstar™
 
RV USA Cap. Grande Blend
ISIN
 
IE0032126645
Patrimonio (Mil)
23/02/2018
 
USD 6558,24
Patrimonio Clase (Mil)
23/02/2018
 
EUR 1137,47
Comisión Máx. Suscripción
 
-
Gastos Corrientes
15/02/2018
 
0,10%

*  Este informe y rating fueron emitidos para una clase diferente de este mismo fondo. La rentabilidad y la estructura de comisiones de este fondo puede variar de lo mencionado aquí.
Analyst Report
The Vanguard US 500 Stock Index tracks the S&P 500, a market-cap-weighted US large-cap equity index. A low fee of 0.06%--one of the lowest among all S&P 500 funds and ETFs--and a soundly constructed and reasonably representative portfolio leave...
Haga clic aquí para leer el análisis
Pilares Morningstar
Personal
Positive
Firma Gestora
Positive
Proceso
Positive
Performance
Positive
Precio
Positive
Objetivo de inversión: Vanguard U.S. 500 Stock Index Fund Institutional EUR Accumulation
The company offers five classes of shares in the fund—Investor and Institutional "Euro" Shares, Investor and Institutional "U.S. Dollar" Shares, and Institutional "Euro Hedged" Shares. The fund seeks to track the performance of the Standard & Poor's 500 ("S&P 500") Index (the "Index"), a widely recognised benchmark of U.S. stock market performance that is dominated by the stocks of large U.S. companies. For the Institutional "Euro Hedged" Shares, the fund seeks to actively hedge exposure to the U.S. dollar.
Returns
| | |
| --- | --- |
| Rentabilidades acumul. % | 23/02/2018 |
| Año | 0,53 |
| 3 años anualiz. | 7,84 |
| 5 años anualiz. | 15,72 |
| 10 años anualiz. | 10,84 |
| | | |
| --- | --- | --- |
| Rendimento a 12 meses |   | 0,00 |
Gestión
Nombre del gestor
Fecha Inicio
No Suministrado
04/11/1998
Creación del fondo
26/09/2002
Benchmark de la Categoría
Benchmark de fondos
Benchmark Morningstar
S&P 500 NR USD
Russell 1000 TR USD
Target Market
Role In Portfolio
Standalone / Core
No específico
Component
No específico
Otro
No específico
Primary Objective
Preservación
No
Crecim
Sí
Ingresos
No
Cobertura (hedging)
No
Otro
No específico
Qué posee el fondo  Vanguard U.S. 500 Stock Index Fund Institutional EUR Accumulation
31/01/2018
Style Box® de Morningstar
Estilo de acciones
Colocación de activos
 
% largo
% corto
% patrimonio
Acciones
100,00
0,00
100,00
Obligaciones
0,00
0,00
0,00
Efectivo
0,00
0,00
0,00
Otro
0,00
0,00
0,00
| | |
| --- | --- |
| 5 regiones principales | % |
| Estados Unidos | 99,16 |
| Asia - Emergente | 0,42 |
| Europe - ex Euro | 0,30 |
| Asia - Desarrollada | 0,07 |
| Reino Unido | 0,06 |
5 mayores sectores
%
Tecnología
21,56
Servicios Financieros
16,99
Salud
14,13
Consumo Cíclico
11,52
Industria
10,70