PrivilEdge H2O High Conviction Bonds H20 P EUR UH Cap
Cómo se ha comportado este fondo
30/04/2017
Crecimiento de 1.000 (EUR)
Gráfico Avanzado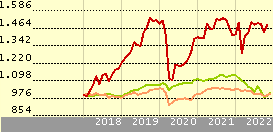 Fondo
-
-
-
-
1,9
+/-Cat
-
-
-
-
1,8
+/-Ind
-
-
-
-
2,2
 
Benchmark de la Categoría: BBgBarc Global Aggregate TR...
Estadística Rápida
VL
23/05/2017
 
EUR 10,42
Cambio del día
 
0,40%
Categoría Morningstar™
 
RF Global
ISIN
 
LU1525841489
Patrimonio (Mil)
23/05/2017
 
EUR 99,61
Patrimonio Clase (Mil)
23/05/2017
 
 1,45
Comisión Máx. Suscripción
 
-
Gastos Corrientes
06/02/2017
 
1,40%
Objetivo de inversión: PrivilEdge H2O High Conviction Bonds H20 P EUR UH Cap
The Sub-Fund's objective is to outperform the benchmark JP Morgan Government Bond Index Broad (the "Benchmark"). To do so, the Investment Manager will target an indicative ex-ante annual tracking error relative to the Benchmark of 6%. The Investment Manager will combine strategic and tactical positions as well as arbitrages on interest rates and international currency markets. The Investment Manager may also invest outside the Benchmark's universe in credit, corporate bonds denominated in any currencies (including Emerging Market currencies) and currencies (including Emerging Market currencies). The investment strategy is based on a "top-down" approach and relies in particular on macroeconomic analysis and analysis of capital flows and relative market valuations.
Returns
| | |
| --- | --- |
| Rentabilidades acumul. % | 23/05/2017 |
| Año | 1,16 |
| 3 años anualiz. | - |
| 5 años anualiz. | - |
| 10 años anualiz. | - |
Gestión
Nombre del gestor
Fecha Inicio
No Suministrado
30/11/2016
Creación del fondo
01/12/2016
Benchmark de la Categoría
Benchmark de fondos
Benchmark Morningstar
-
BBgBarc Global Aggregate TR USD
Qué posee el fondo  PrivilEdge H2O High Conviction Bonds H20 P EUR UH Cap
-
5 mayores posic.
%
No hay datos disponibles
Renta Fija
Vencimiento efectivo
-
Duración efectiva
-
Style Box® de Morningstar
Estilo de renta fija
Colocación de activos
 
% largo
% corto
% patrimonio