Allianz Global Investors Fund - Allianz Dynamic Multi Asset Strategy 75 CT2 EUR
Cómo se ha comportado este fondo
31/03/2019
Crecimiento de 1.000 (EUR)
Gráfico Avanzado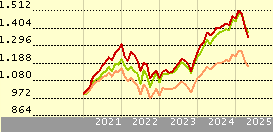 Fondo
5,1
9,4
8,7
-9,7
10,7
+/-Cat
0,3
5,7
1,3
-0,4
1,4
+/-Ind
-2,7
-0,4
1,8
-6,9
-0,4
 
Benchmark de la Categoría: Cat 25%Barclays EurAgg TR&7...
Estadística Rápida
VL
18/04/2019
 
EUR 118,28
Cambio del día
 
0,08%
Categoría Morningstar™
 
Mixtos Agresivos EUR - Global
ISIN
 
LU1462192680
Patrimonio (Mil)
17/04/2019
 
EUR 443,88
Patrimonio Clase (Mil)
18/04/2019
 
EUR 70,00
Comisión Máx. Suscripción
 
5,00%
Gastos Corrientes
18/02/2019
 
2,10%
Objetivo de inversión: Allianz Global Investors Fund - Allianz Dynamic Multi Asset Strategy 75 CT2 EUR
The investment policy aims to generate long term capital growth through investments in a broad range of asset classes, in particular in the global equity markets and European bondand money markets. Overall, the goal is to achieve over the medium-term a performance comparable to a balanced portfolio consisting of 75% global equity markets and 25% medium-term Euro bond markets. The fund management will specify a weighting of investments in bond-, money- or equitymarket oriented positions, based on an active asset allocation approach with volatility as a key input factor. In times of high volatility, the equity market oriented portion will be reduced. In times of low volatility, the equity market oriented portion will be increased.
Returns
| | |
| --- | --- |
| Rentabilidades acumul. % | 18/04/2019 |
| Año | 12,20 |
| 3 años anualiz.* | 7,31 |
| 5 años anualiz.* | 8,17 |
| 10 años anualiz.* | 10,08 |
| | | |
| --- | --- | --- |
| Rendimento a 12 meses |   | 0,00 |
Gestión
Nombre del gestor
Fecha Inicio
Marcus Stahlhacke
01/05/2015
Cordula Bauss
01/05/2015
Click here to see others
Creación del fondo
05/10/2016
Benchmark de la Categoría
Benchmark de fondos
Benchmark Morningstar
75% MSCI World NR EUR ,  25% BBgBarc Euro Agg Bond TR EUR
Cat 25%Barclays EurAgg TR&75%FTSE Wld TR
Target Market
Role In Portfolio
Standalone / Core
No específico
Component
No específico
Otro
No específico
Primary Objective
Preservación
No específico
Crecim
Sí
Ingresos
Sí
Cobertura (hedging)
No específico
Otro
No específico
Qué posee el fondo  Allianz Global Investors Fund - Allianz Dynamic Multi Asset Strategy 75 CT2 EUR
28/02/2019
Style Box® de Morningstar
Estilo de acciones
Style Box® de Morningstar
Estilo de renta fija

Colocación de activos
 
% largo
% corto
% patrimonio
Acciones
86,23
10,01
76,22
Obligaciones
51,14
0,12
51,02
Efectivo
16,75
44,13
-27,38
Otro
0,18
0,04
0,14
Renta Fija
Vencimiento efectivo
26,96
Duración efectiva
23,12

| | |
| --- | --- |
| 5 regiones principales | % |
| Estados Unidos | 55,61 |
| Zona Euro | 13,73 |
| Japón | 6,67 |
| Reino Unido | 6,32 |
| Canadá | 4,30 |
5 mayores sectores
%
Inmobiliario
15,80
Servicios Financieros
14,56
Tecnología
14,52
Salud
12,30
Industria
9,51