DIP Lift Global Value Fund A EUR Cap
Cómo se ha comportado este fondo
31/07/2019
Crecimiento de 1.000 (EUR)
Gráfico Avanzado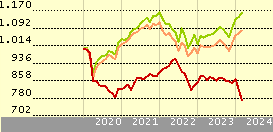 Fondo
-
-
5,8
-3,6
0,8
+/-Cat
-
-
0,7
5,0
-8,3
+/-Ind
-
-
0,9
-1,9
-12,8
 
Benchmark de la Categoría: Cat 50%Barclays EurAgg TR&5...
Estadística Rápida
VL
22/08/2019
 
EUR 10,99
Cambio del día
 
0,46%
Categoría Morningstar™
 
Mixtos Flexibles EUR - Global
ISIN
 
LU1379136820
Patrimonio (Mil)
22/08/2019
 
EUR 43,71
Patrimonio Clase (Mil)
22/08/2019
 
EUR 30,38
Comisión Máx. Suscripción
 
5,00%
Gastos Corrientes
05/02/2019
 
1,69%
Objetivo de inversión: DIP Lift Global Value Fund A EUR Cap
The Investment Objective of the Sub-Fund is to achieve mid-term capital appreciation with a flexible approach. The Sub-Fund seeks to accomplish this objective through investing primarily in equity and on ancillary basis in fixed income mainly issued in OECD countries. The Sub-Fund is managed following a geographical as well as sectorial diversification, based on a value investing methodology combined with the disciplined decision-taking process typically used in the analysis of private equity assets. The Sub-Fund is invested in equities and in bonds (including but not limited to convertible bonds, fixed-rate or floating securities, zero-coupon bonds and treasury bonds, as well as to high yield bonds with a maximum exposure of 25% of the Sub-Fund total net assets), money market instruments issued or dealt on the Eurozone and other international regulated markets and deposits. Direct investment in equity securities will be limited to 75% of the Sub-Fund's total net assets.
Returns
| | |
| --- | --- |
| Rentabilidades acumul. % | 22/08/2019 |
| Año | 0,78 |
| 3 años anualiz. | 2,85 |
| 5 años anualiz. | - |
| 10 años anualiz. | - |
| | | |
| --- | --- | --- |
| Rendimento a 12 meses |   | 0,00 |
Gestión
Nombre del gestor
Fecha Inicio
-
-
Creación del fondo
04/08/2016
Benchmark de la Categoría
Benchmark de fondos
Benchmark Morningstar
Sin benchmark
Cat 50%Barclays EurAgg TR&50%FTSE Wld TR
Target Market
Role In Portfolio
Standalone / Core
No específico
Component
No específico
Otro
No específico
Primary Objective
Preservación
No específico
Crecim
Sí
Ingresos
No específico
Cobertura (hedging)
No específico
Otro
No específico
Qué posee el fondo  DIP Lift Global Value Fund A EUR Cap
31/07/2019
Style Box® de Morningstar
Estilo de acciones
Style Box® de Morningstar
Estilo de renta fija

Colocación de activos
 
% largo
% corto
% patrimonio
Acciones
48,26
0,34
47,92
Obligaciones
27,95
0,00
27,95
Efectivo
16,30
0,43
15,87
Otro
8,26
0,00
8,26
Renta Fija
Vencimiento efectivo
-
Duración efectiva
-

| | |
| --- | --- |
| 5 regiones principales | % |
| Zona Euro | 54,73 |
| Estados Unidos | 19,65 |
| Reino Unido | 12,74 |
| Canadá | 7,07 |
| Europe - ex Euro | 2,64 |
5 mayores sectores
%
Industria
21,22
Consumo Cíclico
17,52
Consumo Defensivo
14,73
Inmobiliario
14,53
Servicios Financieros
13,82