Cómo se ha comportado este fondo
31/12/2018
Crecimiento de 1.000 (EUR)
Gráfico Avanzado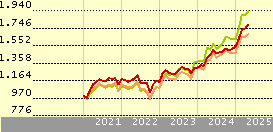 Fondo
-
-
16,3
14,8
-9,6
+/-Cat
-
-
14,3
4,1
2,5
+/-Ind
-
-
14,4
3,2
2,3
 
Benchmark de la Categoría: MSCI Spain NR EUR
Estadística Rápida
VL
21/01/2019
 
EUR 128,19
Cambio del día
 
0,47%
Categoría Morningstar™
 
RV España
ISIN
 
LU1330191898
Patrimonio (Mil)
21/01/2019
 
EUR 233,10
Patrimonio Clase (Mil)
21/01/2019
 
EUR 138,62
Comisión Máx. Suscripción
 
-
Gastos Corrientes
16/02/2018
 
2,00%
Analyst Report
A key attraction of Magallanes Iberian Equity is its skipper Iván Martín. The manager has a long and successful track record in the Iberian space, built around 15 years of managerial experience at the investment arms of Sabadell, Aviva, and...
Haga clic aquí para leer el análisis
Pilares Morningstar
Personal
Positive
Firma Gestora
Positive
Proceso
Positive
Performance
Positive
Precio
Negative
Objetivo de inversión: Magallanes Value Investors UCITS Iberian Equity R
The Sub-fund's objective is to deliver high performance in both absolute and relative term over the long term horizon. There can be no assurance that the investment objective will be achieved. To achieve this, the Sub-fund will mainly invest in a select portfolio of Transferable Securities (including equity related securities such as ADRs and GDRs) of companies which are domiciled in Spain or in Portugal.
Returns
| | |
| --- | --- |
| Rentabilidades acumul. % | 21/01/2019 |
| Año | 6,20 |
| 3 años anualiz. | 11,08 |
| 5 años anualiz. | - |
| 10 años anualiz. | - |
| | | |
| --- | --- | --- |
| Rendimento a 12 meses |   | 0,00 |
Gestión
Nombre del gestor
Fecha Inicio
Iván Martín Aránguez
31/12/2015
Creación del fondo
31/12/2015
Benchmark de la Categoría
Benchmark de fondos
Benchmark Morningstar
80% BME IBEX 35 TR EUR ,  20% PSI 20
MSCI Spain NR EUR
Target Market
Role In Portfolio
Standalone / Core
No específico
Component
No específico
Otro
No específico
Primary Objective
Preservación
No específico
Crecim
Sí
Ingresos
No específico
Cobertura (hedging)
No específico
Otro
No específico
Qué posee el fondo  Magallanes Value Investors UCITS Iberian Equity R
30/09/2018
Style Box® de Morningstar
Estilo de acciones
Colocación de activos
 
% largo
% corto
% patrimonio
Acciones
93,93
0,00
93,93
Obligaciones
0,00
0,00
0,00
Efectivo
6,07
0,00
6,07
Otro
0,00
0,00
0,00
| | |
| --- | --- |
| 5 regiones principales | % |
| Zona Euro | 97,20 |
| Estados Unidos | 2,80 |
| Canadá | 0,00 |
| Iberoamérica | 0,00 |
| Reino Unido | 0,00 |
5 mayores sectores
%
Industria
24,59
Materiales Básicos
17,15
Consumo Cíclico
15,63
Salud
8,27
Servicios de Comunicación
6,69