Cómo se ha comportado este fondo
31/08/2017
Crecimiento de 1.000 (EUR)
Gráfico Avanzado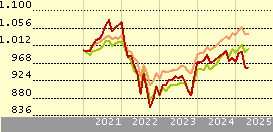 Fondo
4,3
11,5
4,6
-0,3
2,1
+/-Cat
-0,3
7,3
3,0
-2,1
0,5
+/-Ind
-2,3
1,3
1,4
-3,8
0,2
 
Benchmark de la Categoría: Cat 75%Barclays Eu Agg&25%F...
Estadística Rápida
VL
25/09/2017
 
EUR 101,30
Cambio del día
 
0,14%
Categoría Morningstar™
 
Mixtos Defensivos EUR
ISIN
 
LU1254136507
Patrimonio (Mil)
22/09/2017
 
EUR 724,57
Patrimonio Clase (Mil)
22/09/2017
 
EUR 85,96
Comisión Máx. Suscripción
 
3,00%
Gastos Corrientes
16/02/2017
 
1,75%

*  Este informe y rating fueron emitidos para una clase diferente de este mismo fondo. La rentabilidad y la estructura de comisiones de este fondo puede variar de lo mencionado aquí.
Analyst Report
We believe the strategy still has what it takes to outperform its peers despite the departure of one of the managers responsible for running its equity sleeve.

This fund was placed Under Review after Matthias Born announced that he will be...
Haga clic aquí para leer el análisis
Pilares Morningstar
Personal
Positive
Firma Gestora
Neutral
Proceso
Positive
Performance
Positive
Precio
Positive
Objetivo de inversión: Allianz Global Investors Fund - Allianz Capital Plus CT EUR
Up to 80% of Sub-Fund assets are invested in Interest-bearing Securities predominately issued or guaranteed by European governments, municipalities, agencies, supra-nationals, central, regional or local authority or corporates of an European country.
Returns
| | |
| --- | --- |
| Rentabilidades acumul. % | 25/09/2017 |
| Año | 2,66 |
| 3 años anualiz.* | 3,24 |
| 5 años anualiz.* | 5,13 |
| 10 años anualiz.* | 5,35 |
| | | |
| --- | --- | --- |
| Rendimento a 12 meses |   | 0,00 |
Gestión
Nombre del gestor
Fecha Inicio
Stefan Kloss
27/10/2015
Marcus Stahlhacke
27/10/2015
Creación del fondo
27/10/2015
Benchmark de la Categoría
Benchmark de fondos
Benchmark Morningstar
70% BBgBarc Euro Agg 1-10 Yr TR EUR ,  30% MSCI Europe NR EUR
Cat 75%Barclays Eu Agg&25%FTSE AW Dv Eur
Qué posee el fondo  Allianz Global Investors Fund - Allianz Capital Plus CT EUR
31/07/2017
Style Box® de Morningstar
Estilo de acciones
Style Box® de Morningstar
Estilo de renta fija

Colocación de activos
 
% largo
% corto
% patrimonio
Acciones
29,48
0,00
29,48
Obligaciones
67,51
4,13
63,38
Efectivo
7,38
0,70
6,68
Otro
0,50
0,05
0,46
Renta Fija
Vencimiento efectivo
4,23
Duración efectiva
4,08

| | |
| --- | --- |
| 5 regiones principales | % |
| Zona Euro | 43,42 |
| Europe - ex Euro | 30,30 |
| Reino Unido | 23,56 |
| Estados Unidos | 2,72 |
| Canadá | 0,00 |
5 mayores sectores
%
Tecnología
22,46
Consumo Defensivo
21,17
Industria
16,20
Salud
14,65
Consumo Cíclico
11,44