Cómo se ha comportado este fondo
30/11/2018
Crecimiento de 1.000 (EUR)
Gráfico Avanzado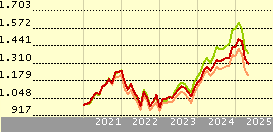 Fondo
16,4
16,3
3,3
11,4
4,6
+/-Cat
-0,3
4,5
-0,6
-1,1
2,2
+/-Ind
-4,5
1,4
-2,6
-1,1
-2,2
 
Benchmark de la Categoría: MSCI World Growth NR USD
Estadística Rápida
VL
07/12/2018
 
USD 12,02
Cambio del día
 
-1,31%
Categoría Morningstar™
 
RV Global Cap. Grande Growth
ISIN
 
LU1295551573
Patrimonio (Mil)
07/12/2018
 
USD 3675,36
Patrimonio Clase (Mil)
07/12/2018
 
USD 445,86
Comisión Máx. Suscripción
 
5,25%
Gastos Corrientes
25/05/2018
 
1,65%

*  Este informe y rating fueron emitidos para una clase diferente de este mismo fondo. La rentabilidad y la estructura de comisiones de este fondo puede variar de lo mencionado aquí.
Analyst Report
Capital Group New Perspective's time-tested focus on firms benefiting from changing global trade patterns merits a Morningstar Analyst Ratings of Gold.Current worries over the impact of tariffs are not new to this strategy. Born in the early...
Haga clic aquí para leer el análisis
Pilares Morningstar
Personal
Positive
Firma Gestora
Positive
Proceso
Positive
Performance
Positive
Precio
Neutral
Objetivo de inversión: Capital Group New Perspective Fund (LUX) B
The fund's primary investment objective is to achieve long-term growth of capital by investing in common stocks of companies located around the world. Future income is a secondary objective.
Returns
| | |
| --- | --- |
| Rentabilidades acumul. % | 07/12/2018 |
| Año | 0,72 |
| 3 años anualiz. | 4,59 |
| 5 años anualiz.* | 9,90 |
| 10 años anualiz.* | 12,63 |
| | | |
| --- | --- | --- |
| Rendimento a 12 meses |   | 0,00 |
Gestión
Nombre del gestor
Fecha Inicio
Robert Lovelace
30/10/2015
Jonathan Knowles
30/10/2015
Click here to see others
Creación del fondo
30/10/2015
Benchmark de la Categoría
Benchmark de fondos
Benchmark Morningstar
MSCI ACWI NR USD
MSCI World Growth NR USD
Target Market
Role In Portfolio
Standalone / Core
No específico
Component
No específico
Otro
No específico
Primary Objective
Preservación
No específico
Crecim
Sí
Ingresos
No específico
Cobertura (hedging)
No específico
Otro
No específico
Qué posee el fondo  Capital Group New Perspective Fund (LUX) B
31/10/2018
Style Box® de Morningstar
Estilo de acciones
Colocación de activos
 
% largo
% corto
% patrimonio
Acciones
91,49
0,00
91,49
Obligaciones
0,00
0,00
0,00
Efectivo
7,15
0,00
7,15
Otro
1,36
0,00
1,36
| | |
| --- | --- |
| 5 regiones principales | % |
| Estados Unidos | 55,02 |
| Zona Euro | 9,83 |
| Asia - Desarrollada | 8,01 |
| Reino Unido | 6,99 |
| Europe - ex Euro | 6,59 |
5 mayores sectores
%
Tecnología
25,74
Consumo Cíclico
17,52
Servicios Financieros
14,99
Salud
10,35
Consumo Defensivo
9,29