Cómo se ha comportado este fondo
31/05/2019
Crecimiento de 1.000 (EUR)
Gráfico Avanzado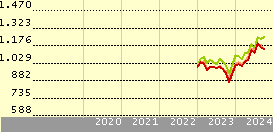 Fondo
28,3
6,3
44,0
-18,9
19,1
+/-Cat
6,6
13,3
22,9
-5,9
4,6
+/-Ind
9,4
9,1
32,9
-4,1
8,9
 
Benchmark de la Categoría: FTSE Small Cap Ex Invest Tr...
Estadística Rápida
VL
21/06/2019
 
GBP 16,51
Cambio del día
 
-0,60%
Categoría Morningstar™
 
RV RU Cap. Pequeña
ISIN
 
IE00BLP58F76
Patrimonio (Mil)
20/06/2019
 
GBP 365,08
Patrimonio Clase (Mil)
20/06/2019
 
GBP 148,16
Comisión Máx. Suscripción
 
5,00%
Gastos Corrientes
15/02/2019
 
1,58%
Analyst Report
Nick Williamson became the lead manager in January 2016 and has had an almost perfect start to his portfolio management career.  Williamson was made deputy manager on this fund in January 2014 and is an experienced analyst, having worked on the...
Haga clic aquí para leer el análisis
Pilares Morningstar
Personal
Positive
Firma Gestora
Neutral
Proceso
Positive
Performance
Neutral
Precio
Negative
Objetivo de inversión: Merian UK Smaller Companies Focus Fund A GBP Inc
Merian UK Smaller Companies Focus Fund aims to provide capital growth from investing primarily in an equity portfolio of UK smaller companies. Smaller companies are defined for this purpose as those companies which are quoted on a regulated market and which have a market capitalisation no greater than the largest company in the Numis Smaller Companies Index at the time of initial investment. The Numis Smaller Companies Index is designed to monitor the performance of the smaller companies sector.
Returns
| | |
| --- | --- |
| Rentabilidades acumul. % | 21/06/2019 |
| Año | 16,07 |
| 3 años anualiz. | 13,50 |
| 5 años anualiz. | 14,08 |
| 10 años anualiz. | 19,05 |
| | | |
| --- | --- | --- |
| Rendimento a 12 meses |   | 0,00 |
| Frecuencia de pago de dividendos |   | Annually |
Gestión
Nombre del gestor
Fecha Inicio
Nick Williamson
01/01/2016
Creación del fondo
14/01/2002
Benchmark de la Categoría
Benchmark de fondos
Benchmark Morningstar
Numis Smaller Companies ex ITs
FTSE Small Cap Ex Invest Trust TR GBP
Target Market
Role In Portfolio
Standalone / Core
No específico
Component
No específico
Otro
No específico
Primary Objective
Preservación
No
Crecim
Sí
Ingresos
No específico
Cobertura (hedging)
No específico
Otro
No específico
Qué posee el fondo  Merian UK Smaller Companies Focus Fund A GBP Inc
31/03/2019
Style Box® de Morningstar
Estilo de acciones
Colocación de activos
 
% largo
% corto
% patrimonio
Acciones
99,28
0,00
99,28
Obligaciones
0,00
0,00
0,00
Efectivo
0,00
0,00
0,00
Otro
0,72
0,00
0,72
| | |
| --- | --- |
| 5 regiones principales | % |
| Reino Unido | 99,31 |
| Estados Unidos | 0,69 |
| Canadá | 0,00 |
| Iberoamérica | 0,00 |
| Zona Euro | 0,00 |
5 mayores sectores
%
Servicios Financieros
24,99
Consumo Cíclico
23,94
Tecnología
14,47
Industria
10,42
Materiales Básicos
7,25