Cómo se ha comportado este fondo
31/12/2018
Crecimiento de 1.000 (EUR)
Gráfico Avanzado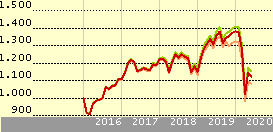 Fondo
-
1,5
10,8
10,4
-6,0
+/-Cat
-
0,2
0,4
0,2
0,9
+/-Ind
-
-0,4
-0,3
-0,2
-0,3
 
Benchmark de la Categoría: MSCI Pacific Ex Japan NR USD
Estadística Rápida
VL
22/01/2019
 
EUR 210,12
Cambio del día
 
-0,63%
Categoría Morningstar™
 
RV Pacífico (ex-Japón)
ISIN
 
IE0007201043
Patrimonio (Mil)
22/01/2019
 
EUR 2660,73
Patrimonio Clase (Mil)
22/01/2019
 
EUR 2,97
Comisión Máx. Suscripción
 
-
Gastos Corrientes
15/02/2018
 
0,30%

*  Este informe y rating fueron emitidos para una clase diferente de este mismo fondo. La rentabilidad y la estructura de comisiones de este fondo puede variar de lo mencionado aquí.
Analyst Report
This fund was moved into the newly created Pacific Ex-Japan Equity Morningstar Category in April 2018. The category encompasses funds with exposure only to the developed economies in the region, except for Japan. The recategorisation means that...
Haga clic aquí para leer el análisis
Pilares Morningstar
Personal
Positive
Firma Gestora
Positive
Proceso
Neutral
Performance
Neutral
Precio
Positive
Objetivo de inversión: Vanguard Pacific ex-Japan Stock Index Fund Investor EUR Accumulation
The Fund seeks to provide long-term growth of capital by tracking the performance of the Morgan Stanley Capital International ("MSCI") Pacific ex-Japan Index, which is made up of common stocks of companies located in Australia, Hong Kong, New Zealand, and Singapore. The Fund employs a "passive management" or indexing investment strategy designed to track the performance of the index by investing in all, or a representative sample, of the securities that make up the index.
Returns
| | |
| --- | --- |
| Rentabilidades acumul. % | 22/01/2019 |
| Año | 5,43 |
| 3 años anualiz. | 10,80 |
| 5 años anualiz. | - |
| 10 años anualiz. | - |
| | | |
| --- | --- | --- |
| Rendimento a 12 meses |   | 0,00 |
Gestión
Nombre del gestor
Fecha Inicio
No Suministrado
22/07/2005
Creación del fondo
27/02/2014
Benchmark de la Categoría
Benchmark de fondos
Benchmark Morningstar
MSCI Pacific Ex Japan NR USD
MSCI Pacific Ex Japan NR USD
Target Market
Role In Portfolio
Standalone / Core
No específico
Component
No específico
Otro
No específico
Primary Objective
Preservación
No
Crecim
Sí
Ingresos
No
Cobertura (hedging)
No
Otro
No específico
Qué posee el fondo  Vanguard Pacific ex-Japan Stock Index Fund Investor EUR Accumulation
31/12/2018
Style Box® de Morningstar
Estilo de acciones
Colocación de activos
 
% largo
% corto
% patrimonio
Acciones
100,00
0,00
100,00
Obligaciones
0,00
0,00
0,00
Efectivo
0,00
0,00
0,00
Otro
0,00
0,00
0,00
| | |
| --- | --- |
| 5 regiones principales | % |
| Australasia | 56,82 |
| Asia - Desarrollada | 39,95 |
| Asia - Emergente | 2,20 |
| Estados Unidos | 1,03 |
| Canadá | 0,00 |
5 mayores sectores
%
Servicios Financieros
37,80
Inmobiliario
13,78
Industria
9,69
Materiales Básicos
9,54
Salud
5,86