Ashmore SICAV Emerging Markets Corporate Debt Fund Class Z EUR Inc
Cómo se ha comportado este fondo
31/05/2018
Crecimiento de 1.000 (EUR)
Gráfico Avanzado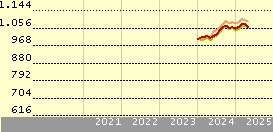 Fondo
-4,9
-4,1
18,6
11,0
-5,0
+/-Cat
-7,8
-2,6
10,3
5,3
-1,1
+/-Ind
-8,2
-3,6
6,0
1,5
-2,9
 
Benchmark de la Categoría: Morningstar EM Corp Bd TR H...
Estadística Rápida
VL
18/06/2018
 
EUR 80,85
Cambio del día
 
-0,20%
Categoría Morningstar™
 
RF Deuda Corporativa Global Emergente - Sesgo EUR
ISIN
 
LU0860716140
Patrimonio (Mil)
18/06/2018
 
USD 1542,60
Patrimonio Clase (Mil)
18/06/2018
 
EUR 3,34
Comisión Máx. Suscripción
 
5,00%
Gastos Corrientes
22/07/2014
 
1,31%
Objetivo de inversión: Ashmore SICAV Emerging Markets Corporate Debt Fund Class Z EUR Inc
The Fund's objective is to achieve a high level of total return consisting of income and/or capital appreciation over the medium term. This Fund is managed by Ashmore Investment Management Limited on a discretionary basis with no reference to a particular benchmark. The Fund aims to be mainly invested in bonds and similar instruments issued primarily by Emerging Market private and public sector corporate entities. The Fund will seek to achieve its objectives through securities denominated in US dollars and other major currencies as well as Emerging Market local currencies. The Fund may not invest more than 50% of its net assets in investments denominated in currencies other than US dollars or other G7 currencies (unless over such amount, such investments are hedged to the US dollar).
Returns
| | |
| --- | --- |
| Rentabilidades acumul. % | 18/06/2018 |
| Año | -6,05 |
| 3 años anualiz. | 2,95 |
| 5 años anualiz. | - |
| 10 años anualiz. | - |
| | | |
| --- | --- | --- |
| Rendimento a 12 meses |   | 6,37 |
| Frecuencia de pago de dividendos |   | Monthly |
Gestión
Nombre del gestor
Fecha Inicio
No Suministrado
23/02/2017
Creación del fondo
18/07/2013
Benchmark de la Categoría
Benchmark de fondos
Benchmark Morningstar
JPM CEMBI Broad Diversified TR USD
Morningstar EM Corp Bd TR Hdg EUR
Target Market
Role In Portfolio
Standalone / Core
No específico
Component
No específico
Otro
No específico
Primary Objective
Preservación
No específico
Crecim
No específico
Ingresos
No específico
Cobertura (hedging)
No específico
Otro
No específico
Qué posee el fondo  Ashmore SICAV Emerging Markets Corporate Debt Fund Class Z EUR Inc
31/03/2018
Renta Fija
Vencimiento efectivo
-
Duración efectiva
-
Style Box® de Morningstar
Estilo de renta fija
Colocación de activos
 
% largo
% corto
% patrimonio
Acciones
2,39
0,00
2,39
Obligaciones
92,92
0,00
92,92
Efectivo
2,80
1,09
1,71
Otro
2,98
0,00
2,98