Cómo se ha comportado este fondo
30/11/2018
Crecimiento de 1.000 (EUR)
Gráfico Avanzado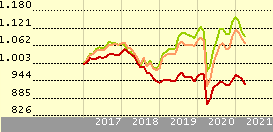 Fondo
1,9
-4,7
-0,9
3,9
-9,2
+/-Cat
-
-
-
-
-
+/-Ind
-
-
-
-
-
 
Benchmark de la Categoría: -
Estadística Rápida
VL
10/12/2018
 
EUR 0,95
Cambio del día
 
0,01%
Categoría Morningstar™
 
Alt - Long/Short Deuda
ISIN
 
IE00B3CLDG88
Patrimonio (Mil)
07/12/2018
 
USD 547,12
Patrimonio Clase (Mil)
07/12/2018
 
EUR 4,24
Comisión Máx. Suscripción
 
-
Gastos Corrientes
13/02/2018
 
1,72%

*  Este informe y rating fueron emitidos para una clase diferente de este mismo fondo. La rentabilidad y la estructura de comisiones de este fondo puede variar de lo mencionado aquí.
Analyst Report
The fund benefits from a focused team and a tried-and-tested process, which provide a high-conviction portfolio of the team's best long and short emerging-markets debt ideas. Experienced investors Colm McDonagh, Darren Louis, and Robert Simpson...
Haga clic aquí para leer el análisis
Pilares Morningstar
Personal
Positive
Firma Gestora
Neutral
Proceso
Positive
Performance
Neutral
Precio
Negative
Objetivo de inversión: Absolute Insight Emerging Market Debt Fund Class Ap Euro Shares
El fondo pretende generar una rentabilidad total positiva, que abarque tanto ganancias como crecimiento del capital, en todas las condiciones de mercado sobre una base de 12 meses consecutivos. Además, el fondo pretende alcanzar como mínimo el objetivo de 3 month US dollar Libid + 4% sobre una base anualizada de 5 años consecutivos antes de descontar comisiones y gastos.
Returns
| | |
| --- | --- |
| Rentabilidades acumul. % | 10/12/2018 |
| Año | -9,41 |
| 3 años anualiz. | -2,39 |
| 5 años anualiz. | -1,89 |
| 10 años anualiz. | - |
| | | |
| --- | --- | --- |
| Rendimento a 12 meses |   | 0,00 |
Gestión
Nombre del gestor
Fecha Inicio
Thibaut Nocella
09/09/2013
Rodica Galvin
28/02/2007
Click here to see others
Creación del fondo
20/04/2012
Benchmark de la Categoría
Benchmark de fondos
Benchmark Morningstar
LIBID GBP 3 Months
-
Target Market
Role In Portfolio
Standalone / Core
No específico
Component
No específico
Otro
No específico
Primary Objective
Preservación
Sí
Crecim
Sí
Ingresos
No específico
Cobertura (hedging)
No específico
Otro
No específico
Qué posee el fondo  Absolute Insight Emerging Market Debt Fund Class Ap Euro Shares
31/08/2018
Style Box® de Morningstar
Estilo de acciones
Style Box® de Morningstar
Estilo de renta fija

Colocación de activos
 
% largo
% corto
% patrimonio
Acciones
0,00
0,00
0,00
Obligaciones
47,41
15,57
31,84
Efectivo
115,71
47,72
67,99
Otro
0,18
0,02
0,16
Renta Fija
Vencimiento efectivo
-
Duración efectiva
-

5 regiones principales
%
No hay datos disponibles
5 mayores sectores
%
No hay datos disponibles