Bankinter International Fund SICAV Flexible Multi-Asset EUR
Cómo se ha comportado este fondo
30/06/2019
Crecimiento de 1.000 (EUR)
Gráfico Avanzado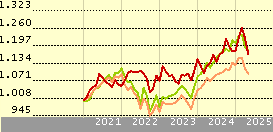 Fondo
-7,9
27,3
0,2
-4,2
9,1
+/-Cat
-10,0
25,1
-4,8
4,4
1,3
+/-Ind
-13,5
19,6
-4,6
-2,5
-2,1
 
Benchmark de la Categoría: Cat 50%Barclays EurAgg TR&5...
Estadística Rápida
VL
19/07/2019
 
EUR 14,30
Cambio del día
 
1,10%
Categoría Morningstar™
 
Mixtos Flexibles EUR - Global
ISIN
 
LU0740667042
Patrimonio (Mil)
19/07/2019
 
EUR 628,39
Patrimonio Clase (Mil)
19/07/2019
 
EUR 628,39
Comisión Máx. Suscripción
 
-
Gastos Corrientes
31/01/2019
 
0,31%
Objetivo de inversión: Bankinter International Fund SICAV Flexible Multi-Asset EUR
The Sub-Fund's objective is to select investments on the basis of the return expectations out of the allocation of investments by type of asset classes (i.e. equity, fixed income, Money Market Instruments, currencies, etc) at a specific point in time. The Sub-Fund does not aim to achieve an absolute return but seeks to achieve an acceptable level of medium and long-term return and capital growth through a dynamic asset allocation and active management of the portfolio.
Returns
| | |
| --- | --- |
| Rentabilidades acumul. % | 19/07/2019 |
| Año | 13,44 |
| 3 años anualiz. | 1,84 |
| 5 años anualiz. | 5,83 |
| 10 años anualiz. | - |
| | | |
| --- | --- | --- |
| Rendimento a 12 meses |   | 0,00 |
Gestión
Nombre del gestor
Fecha Inicio
No Suministrado
27/01/2012
Creación del fondo
27/01/2012
Benchmark de la Categoría
Benchmark de fondos
Benchmark Morningstar
Sin benchmark
Cat 50%Barclays EurAgg TR&50%FTSE Wld TR
Target Market
Role In Portfolio
Standalone / Core
No específico
Component
No específico
Otro
No específico
Primary Objective
Preservación
No
Crecim
Sí
Ingresos
No específico
Cobertura (hedging)
No específico
Otro
No específico
Qué posee el fondo  Bankinter International Fund SICAV Flexible Multi-Asset EUR
30/06/2019
Style Box® de Morningstar
Estilo de acciones
Style Box® de Morningstar
Estilo de renta fija

Colocación de activos
 
% largo
% corto
% patrimonio
Acciones
52,83
0,00
52,83
Obligaciones
23,31
0,37
22,94
Efectivo
21,88
5,43
16,45
Otro
7,78
0,00
7,78
Renta Fija
Vencimiento efectivo
-
Duración efectiva
-

| | |
| --- | --- |
| 5 regiones principales | % |
| Canadá | 38,06 |
| Estados Unidos | 16,76 |
| Zona Euro | 13,93 |
| Australasia | 11,80 |
| África | 8,24 |
5 mayores sectores
%
Materiales Básicos
59,22
Consumo Cíclico
31,92
Energía
4,24
Consumo Defensivo
2,41
Industria
2,21