Cómo se ha comportado este fondo
31/01/2019
Crecimiento de 1.000 (EUR)
Gráfico Avanzado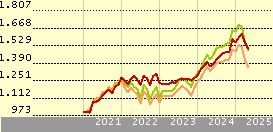 Fondo
13,1
8,0
2,4
-3,6
6,4
+/-Cat
4,2
1,4
-5,9
4,1
-0,7
+/-Ind
2,7
-2,7
-5,1
0,5
-0,9
 
Benchmark de la Categoría: MSCI World NR USD
Estadística Rápida
VL
15/02/2019
 
EUR 208,06
Cambio del día
 
1,07%
Categoría Morningstar™
 
RV Global Cap. Grande Blend
ISIN
 
LU0705782398
Patrimonio (Mil)
14/02/2019
 
EUR 634,88
Patrimonio Clase (Mil)
31/01/2019
 
EUR 20,57
Comisión Máx. Suscripción
 
5,00%
Gastos Corrientes
03/12/2018
 
1,21%

*  Este informe y rating fueron emitidos para una clase diferente de este mismo fondo. La rentabilidad y la estructura de comisiones de este fondo puede variar de lo mencionado aquí.
Analyst Report
An experienced team, distinctive process, and low fees are compelling features in Robeco QI Global Conservative Equities.  Recent market conditions have not favoured this defensive fund. The high-beta market rally that started in the second half...
Haga clic aquí para leer el análisis
Pilares Morningstar
Personal
Positive
Firma Gestora
Positive
Proceso
Positive
Performance
Positive
Precio
Positive
Objetivo de inversión: Robeco QI Global Conservative Equities D €
Robeco Global Conservative Equities invierte en acciones de baja volatilidad de todo el mundo. El objetivo a largo plazo del fondo es alcanzar rendimientos comparables a las acciones de los mercados desarrollados, aunque con un nivel de exposición al riesgo a la baja claramente menor. Benchmark: MSCI All Country World Index (Net Return) (EUR). Este fondo puede no ser adecuado para inversores que prevean retirar su dinero en un plazo de Cinco años.
Returns
| | |
| --- | --- |
| Rentabilidades acumul. % | 15/02/2019 |
| Año | 10,07 |
| 3 años anualiz. | 8,12 |
| 5 años anualiz. | 10,34 |
| 10 años anualiz. | - |
| | | |
| --- | --- | --- |
| Rendimento a 12 meses |   | 0,00 |
Gestión
Nombre del gestor
Fecha Inicio
Jan Sytze Mosselaar
14/12/2014
Pim Van Vliet
14/12/2014
Click here to see others
Creación del fondo
13/12/2011
Benchmark de la Categoría
Benchmark de fondos
Benchmark Morningstar
MSCI ACWI NR EUR
MSCI World NR USD
Target Market
Role In Portfolio
Standalone / Core
No específico
Component
No específico
Otro
No específico
Primary Objective
Preservación
No específico
Crecim
Sí
Ingresos
Sí
Cobertura (hedging)
No específico
Otro
No específico
Qué posee el fondo  Robeco QI Global Conservative Equities D €
31/12/2018
Style Box® de Morningstar
Estilo de acciones
Colocación de activos
 
% largo
% corto
% patrimonio
Acciones
99,09
0,00
99,09
Obligaciones
0,00
0,00
0,00
Efectivo
0,91
0,00
0,91
Otro
0,00
0,00
0,00
| | |
| --- | --- |
| 5 regiones principales | % |
| Estados Unidos | 44,17 |
| Asia - Desarrollada | 11,74 |
| Canadá | 9,79 |
| Europe - ex Euro | 6,59 |
| Australasia | 6,56 |
5 mayores sectores
%
Servicios Financieros
21,94
Servicios de Comunicación
12,07
Industria
11,44
Servicios Públicos
11,18
Consumo Cíclico
9,65